Over the years many relatives and friends visited Eesti, but I was always reticent. Would my wife, Allyson, who only speaks English, be comfortable? Would my relatives, whom I hardly know, be welcoming? Could I get by with my rusty Estonian? And why visit what I imagined to be a poor and flat country? But finally, we decided to go.
First, to improve my language I listened to children's bedtime stories on Internet (vikerraadio.err.ee/kuularhiiv?saade=72&kid=206). The storyteller spoke clearly and I could pause the broadcast and translate unknown words using an on-line dictionary (dict.ibs.ee). Perfect!
We flew to Amsterdam and then with Air Estonia to Tallinn. I was excited listening to other passengers speaking Estonian, and understanding them. An attractive blonde stewardess wore a uniform tastefully decorated with an Estonian folk pattern.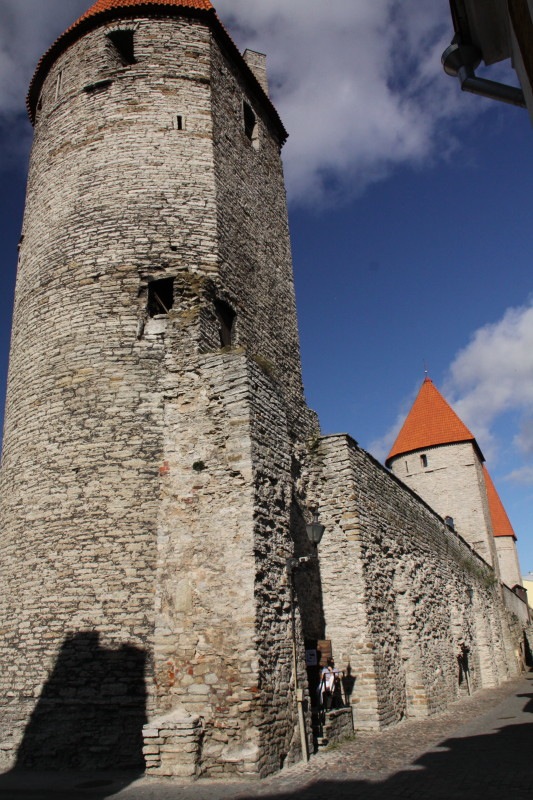 My cousin Kadi and her son and grandson met us. My mind whirled as we drove into a modern European city. It seemed strange seeing signs in Estonian. Then we entered the medieval Old Town and I was overwhelmed with emotion for Tallinn is one of Europe's most beautiful capitals with narrow cobblestone streets, church spires, medieval buildings, thick battlements and towers.
Over the next two days we walked and walked, immersing ourselves in the glorious Old Town, which was established in 1219 when the Danes built a castle on Toompea Hill. Tallin (an abbreviation of Taani Linnus, Danish stronghold) became a major centre of the Hanseatic League. The town is surprisingly well preserved given the wars that Estonia has suffered. At the centre is the raekoja plats (town hall square), which is dominated by northern Europe's only surviving late Gothic town hall (1404) and lined with bustling open-air cafes. Patio umbrellas carried the name Saku (the local beer). Throngs of tourists often milled in the square for Tallinn is a regular stop for cruise ships.
The Old Town, a UNESCO World Heritage Site, is actually two towns, each with its own fortifications. The upper one on Toompea Hill was for nobles and the lower town for merchants. About 2 kilometres of sturdy stone walls and 27 towers are still preserved.
Museums, churches and other fascinating places to visit in the lower town are too numerous to list, but one of our favourites was the Passage of History in the alley beside the Great Guild House (1410). Plaques inserted in the sidewalk outline Eesti history from 1154 to the present.
From the ramparts of upper Town we enjoyed wonderful views onto the rooftops and spires of lower Town. We visited the parliament buildings, the Russia Orthodox Alexander Nevsky cathedral and Pikk Hermann tower, which reminded me of the Estonian flag holder in my parents' home long ago.
Next day, our guide stopped on a narrow cobblestone street and pointed to a stately Gothic house. "That was the former KGB headquarters," she said. "This street was the most feared place in the city." As we were to learn, Russia still casts a dark shadow over the land.
Our local haunt became the Hell Hunt bar, on whose window a smiling wolf carries a naked blonde lady. Even better, the beer was delicious and cheap. Allyson and I usually ordered the house hele (lager) and dume (dark) beers, respectively. Many other restaurants and bars abounded.
We spent one evening at the home of cousin Kadi and another at the home of cousin Tiit. It was wonderful to chat with them, to meet their children and grandchildren and, suddenly, to be part of a large family. I was happy, realizing I had grown up with two lives. Now I was meeting relatives and seeing my parents' homeland. I was connecting the two halves of my life, making it complete.
My cousins explained that Estonia is an amazingly progressive country. Free since 1991, Eesti has made huge economic and political strides in recovering from communism. For example, Skype was invented here; there is almost no government debt; Estonia is a member of NATO and the Eurozone; corruption is minimal and voting is conducted via Internet. I was proud.
One afternoon cousin Kadi took me for a walk. "There's much to see outside the Old Town," she said. We passed old wooden houses that looked Nordic but often needed a coat of paint and some repair. Then we arrived at Seaplane Harbour, a brand-new, world-class maritime museum. The main building is an immense dome, originally built in 1917. Inside, it is surreal and contains a submarine, the oldest boat in Estonia and much more. Outside in the bay are cannons and ships including a historic icebreaker, Suur Tõll. The museum is a must-see.
On the fourth day, we rented a car and set off for Pärnu. We were entering terra incognita for tourists rarely go outside Tallinn.
Hans Tammemägi