In the Greater Toronto and Hamilton Area, you'll find three branches of Starsky Fine Foods, a grocery store chain with an emphasis on Polish food products, but where you'll find a selection of Estonian food and beverages, or comparable substitutes, to stock your kitchen.
Their location in the east end of Mississauga (2040 Dundas Street East, L4X 2X8) is the oldest, having been there since 2005. Their location in the west end of Mississauga (3115 Dundas Street West, L5L 3R8) opened in 2008. The Hamilton store (685 Queenston Road, L8G 1A1) opened in 2012.
Maybe you've been to one of these before? Maybe it has cropped up in conversation and you've never ventured out to one of these locations. Regardless, here is the latest intel from their 2040 Dundas Street East store, showing just what you can get for precisely 40 dollars and 66 cents:
Estonian sausage: When you first arrive at Starsky Fine Foods, it appears much like any other grocery store. From the parking lot into the first few metres of the store, you'll find shoppers perusing fresh Ontario fruits and vegetables.
Follow the perimeter of the store just a bit further, though, and you'll find the main spectacle of the store—the deli. Practically from one end of the store to the other, there are dozens of meats, cheeses, salads, and pre-cooked dishes. So much that you'll want to make a decision before you take a number, lest you order too much of one item and totally forget another. Take your time, and ask for free samples, which they're very willing to give, before you get yourself into three pounds of Vienna salami.
Amidst the selection, you'll find "Estonian sausage." The staff didn't have much info about its origins, but it was a large piece of pork with rounded sides, almost like braided bread in appearance. It has a very rich flavour, so thin slices are ideal.
Latvian cheese: After asking staff if they had any Estonian cheese, they declined and quickly retrieved a block of cheese that they indicated was from Latvia. It was mild, creamy and a good offset to the more intense sausage, similar to havarti.
Lithuanian rye bread: In the absence of Estonian must leib, you can find several other varieties of rye bread. Seeking something not too light, I chose a loaf of dark Lithuanian bread. Texturally, it's pretty dense. But when you toast it for two minutes or so and take a bite, it's lovely and just a little bit soft to the tooth. It has a distinct caraway flavour as well.
Pork in jelly: Though they don't call it sült at this store like Estonians do, it looks very familiar. In terms of taste it has the added complexity of parsley and carrot pieces.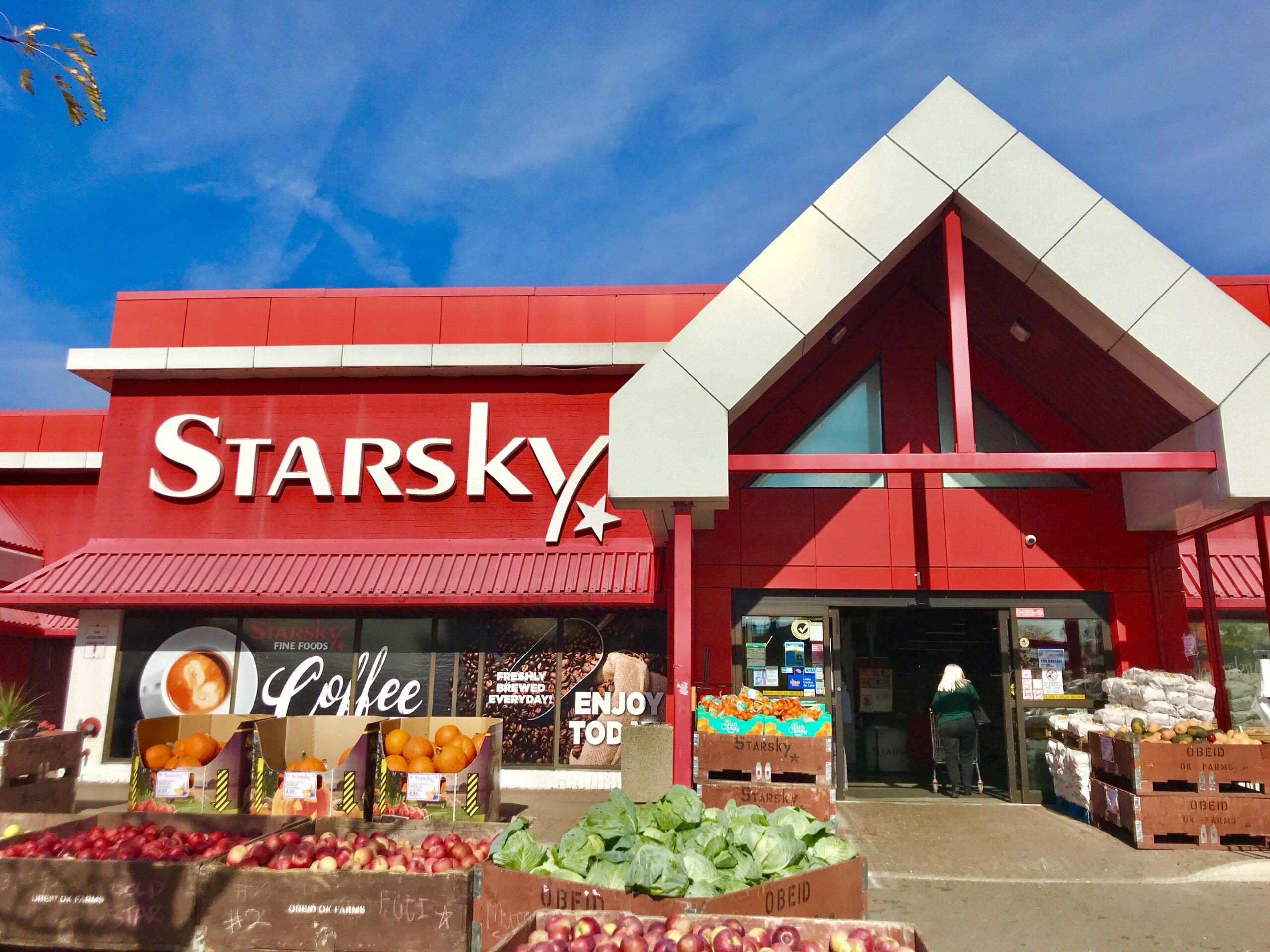 Rügen Fisch herring fillets in tomato sauce: This portion of heeringas did benefit from being combined with the tangy tomato sauce, somewhat akin to the flavours of skumbria (which some say is not an Estonian dish after all!). That aside, one should be a fan of more intense fish flavours to fully enjoy this snack.
Aura mustika mahlajook (blueberry juice): Being a "juice drink," it's maybe not the most pure fruit beverage, but it's a sweet, light, and refreshing drink. Kids will love this stuff.
LagerSHED Original by Shawn & Ed Brewing Co.: LagerSHED beer, made in Hamilton, is co-owned by an Estonian, Shawn Till. The beer has a round beginning to its flavour, the slightly sharp presence of hops after that, which then gives way to a malty finish. It's ideal for autumn, being light but slightly more sippable as a lager.
Borshch: I saw borshch, and I double-taked. Ok, so this is Ukrainian borshch specifically, but Estonians like this dish, too! Beets, meat, some beans—all in all, it's a delicious, comforting soup to warm up at home.
Now that the savoury flavours have been satisfied, what about something sweet? There are two options on the menu:
Option one is a bar of Kalev Anneke milk chocolate. It's soft and sweet: a classic bar of milk chocolate. Option two is Kalev Maiuspala mandli-koorejäätis (almond cream ice cream with cashews and chocolate glaze). In the time it took to get home, this ice cream melted. You've got to act fast.
Honestly, for all I've heard about Starsky Fine Foods, I was expecting more Estonian products to be there. You really have to look with an attentive eye, except for the wall of Aura juice in multiple flavours. Polish-Canadians are indeed the primary demographic of this store, evidenced by some of the signage and the large collection of magazines, films, and greeting cards. Nonetheless, the fact that a store has more than one Estonian product should be lauded—it's impressive indeed.
Some other honourable mentions include:
–Elwest's probiotic kefir "à la Tallinn"
–Riga Gold smoked sprats (kilu) in oil
–Breaded pork schnitzel prepared in-house. All you have to do is heat up your frying pan at home.
This store is a long distance to go if you're not already in the west end, but it might be worth the trip if you've not had much luck finding Estonian products at other European food stores in the GTA and Hamilton.
Analogous stores can be found in major cities across Canada. In Vancouver's West End, there's EuroFood Plus. In Montréal, there's Epicure Market. In Ottawa, there's Wedel Touch of Europe in the Byward Market. Try to find one of these when you're missing food from Estonia and… head isu!