A crumble uses flour, butter, and brown sugar to make a streusel topping. A crisp uses this same combination of ingredients but adds oats in as well. The most different is a cobbler, which uses biscuit dough poured over the top rather than streusel.
Truly, all three varieties are delectable. And the preference of filling—between apples, peaches, berries, even pumpkin and sweet potato—is subjective. But in many ways, it all comes down to the apple crisp. The combination of nutty, toasted oats, tart apples, salty butter, sugar, and spices is equally appealing for those with a "sweet tooth" as those who prefer savoury foods.
The next time you need to fix up a simple dessert to make a crowd content, try this recipe:
This recipe serves approximately six people.
Ingredients:
Fruit filling
6 large apples, peeled, cored, and sliced into medium-sized pieces. (There are a few apples that are especially suitable for baking due to the fact that they remain intact. bon appétit recommends the bright green Granny Smith, Jonagold, Honeycrisp, and Braeburn varieties. If you're in Estonia, Valge klaarõun [White Transparent] apples are a popular choice. One type to avoid is Red Delicious as they are too soft. If you can track them down outside of the UK, Bramley apples are fantastic.)
1/2 teaspoon of ground cinnamon
1/2 teaspoon of ground nutmeg
1/2 teaspoon of ground allspice
4 teaspoons of all-purpose flour
Streusel topping
1 cup of all-purpose flour
1 stick of salted butter, melted
A container of ice cream is an ideal add-on for this dessert. Vanilla is the most common choice, but pistachio ice cream would emphasize the nutty factor.
Preparation method:
To start making the filling, peel, core, and slice the apples. Put them in a big bowl and throw in the lemon juice, brown sugar, spices, and flour. Mix everything around with a fork, and then put this bowl aside to let the apples absorb the flavour of the spices.
Preheat your oven to 200 degrees Celsius (392 Fahrenheit).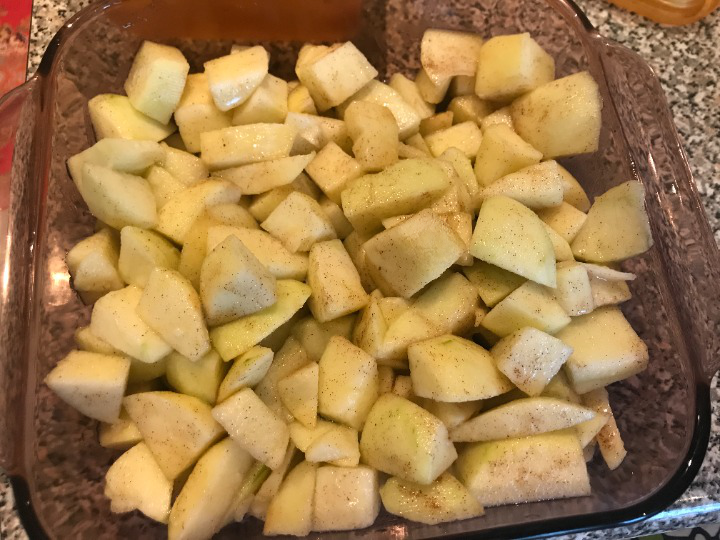 While waiting for the oven to get hot, make the streusel. To do this, get another big bowl. In the bowl, combine the brown sugar, flour, oats, and cinnamon powder. Melt the stick of butter in the microwave for a few seconds in a measuring cup and pour the melted butter into the streusel bowl. Immediately mix these ingredients until all components are combined.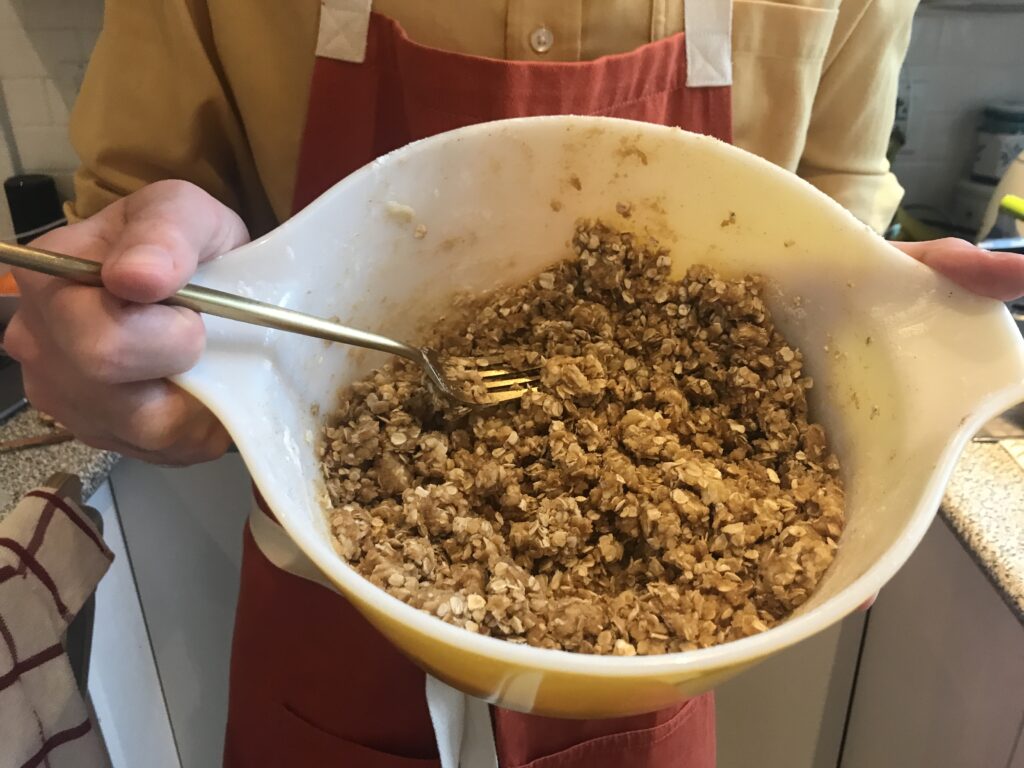 Fill a casserole dish with the spiced apples, then spread the streusel evenly over the top.
Cook the crisp for 30 minutes.
When the crisp is taken out of the oven and sits for a moment, take the ice cream out of the freezer. Boil some water, pour it in a mug, and put your spoon or ice cream scoop in the water before scooping to make doling out the ice cream easier.
Head isu!