Recognizing the tangible heritage of video games, especially in Estonia, led to the founding of Videomängude muuseum LVLup (the LVLup! Video Game Museum) in Tallinn.
The museum explains, "Up until the late 1990s, Estonia, like many Eastern European countries, had little access to the Western European game market. Instead, a few specific consoles such as Dendy were popular, while unknown elsewhere in the world. Dendy was a "Famiclone": an unauthorized copy of Nintendo's Famicom [also known as Nintendo Entertainment System or NES] produced in Taiwan for the post-Soviet market." Estonia received popular game titles like Super Mario ten years later than places like Canada or the United States, but the buzz was still there and it shaped the lives and social experiences of Estonians.
Preserving this history for future generations are museum co-founder and technical director Andrejs Rusinovskis and co-founder and artistic director Camille Laurelli. Rusinovskis is a youth worker, designer, and video game historian, while Laurelli (originally from France) is a multimedia artist, longtime exhibit curator, and visiting lecturer at the Estonian Academy of Arts in Tallinn.
The museum first opened in 2018, starting with just a few consoles, but eventually moved to its current location (Akadeemia tee 28, Tallinn) in 2021. When you visit, you'll not only see consoles and arcades from other eras but be transported back to the kind of environment where those games would have been played. Laurelli and Rusinovskis have arranged the decor to simulate the experience of going to Estonian underground "game clubs… where for a few [kroonid] one could rent a device to play on."
Through a tour in this museum (available in English and Estonian, among other languages), visitors will learn about the history of video games and hear tales from the early years of gaming. Moreover, this is an interactive place where everyone can set their hands on and play with the very machines that are spoken of.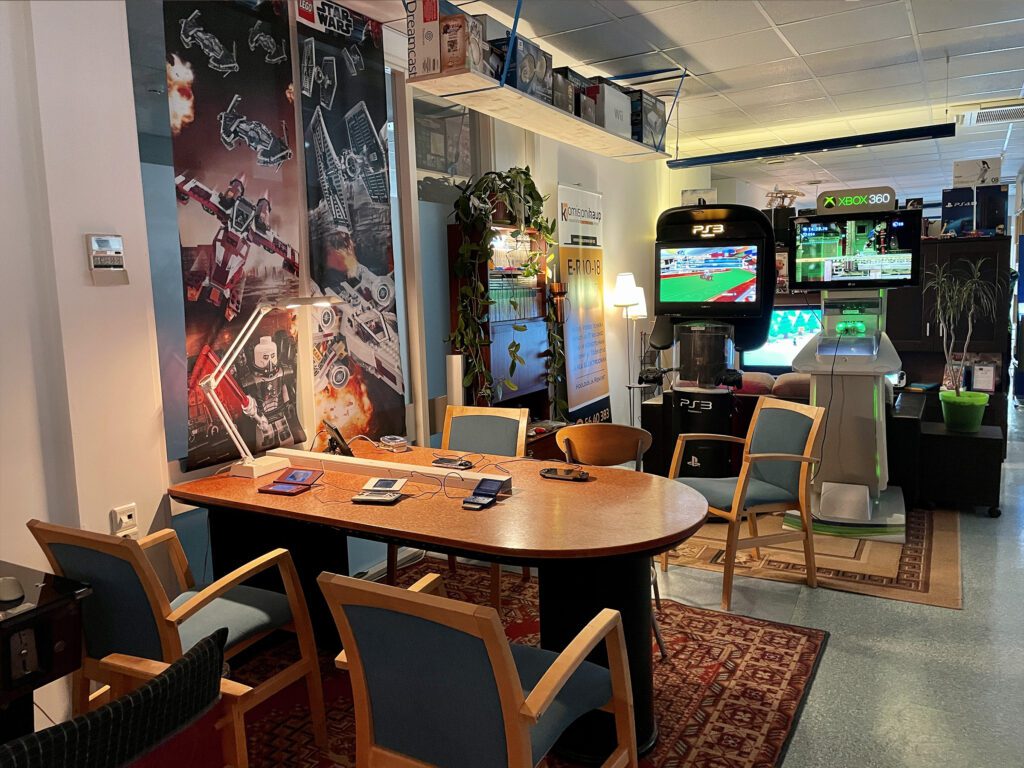 Walking through the museum, you'll find room after room of game consoles (30 to be precise), 10 arcade machines, and a collection of around 2,000 games that take you from the beginning of video games to the most recent titles. You can spend a whole day here trying the games if you want. General admission ranges from four to five Euros per hour depending on the day of the week that you visit, and the museum is open from Thursday to Sunday. The museum is also rented out for parties, seminars, and other events.
Pursuant to their educational mandate, the museum has published many videos online about video game trends, thinking critically about the content of games, as well as technical and maintenance topics for the owners of arcades and vintage consoles.
Their documentation of video game heritage extends even further, though. In 2019, they compiled a photographic archive about the use of the Dendy game system in Estonia in the 90s. In November 2020, the museum created an exhibition at Tallinn's Rocca al Mare shopping centre about toys, games, and other elements of the classic Estonian childhood from the 70s until the present day.
The trajectory of gaming has largely moved towards better quality graphics and more sophisticated technological offerings. Many gamers want the gameplay on-screen to feel lifelike and crisp, and this has been achieved. Games have become more social on an international level through the improvement of multiplayer game options, with chat functions, headsets, and more.
As impressive as this is, it's valuable to show digital cultural heritage to kids who have just started to play games, and remind others who have played for a long time, what the games of today are descended from and what has been carried forward in narrative, challenges, and characters that make for the perfect gaming experience.