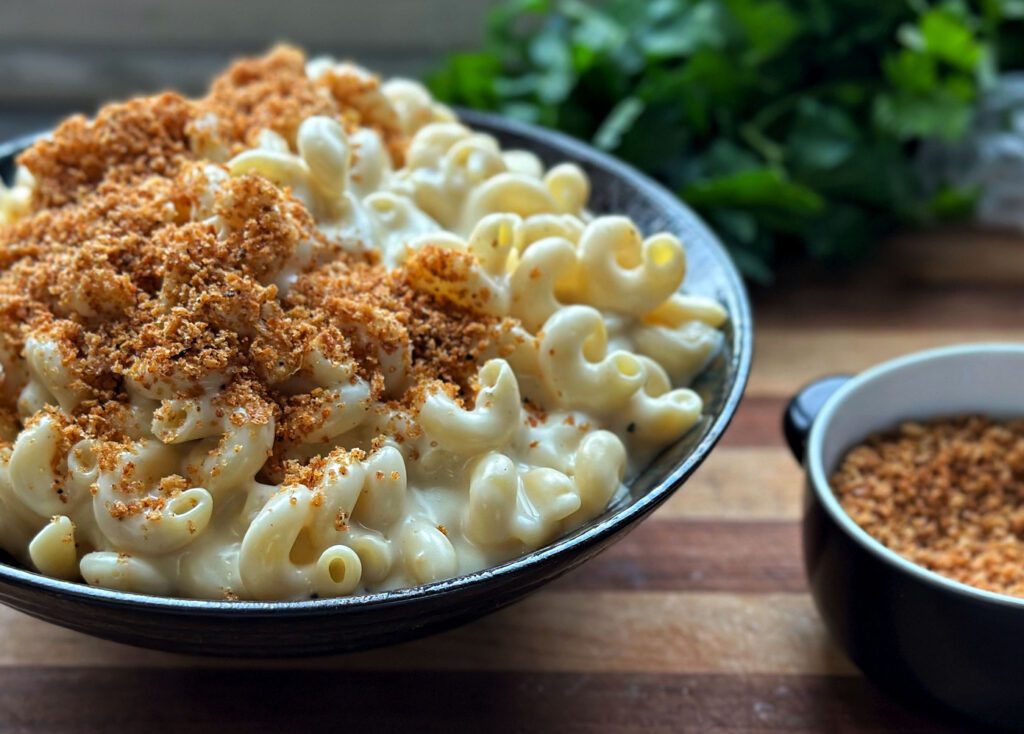 Retsept
Butter-toasted Breadcrumbs:
1 cup coarse/panko breadcrumbs
2 tbsp salted butter
1/4 tsp garlic powder
1/4 tsp ground sage
Cheddar Bechamel Sauce:
1/2 cup of salted butter
1/2 cup all-purpose flour
1 litre of milk, warmed
2 tsp Dijon
1 clove garlic, minced
4 cups (340 grams) aged cheddar, shredded
1/4 tsp salt
500 g Cavatappi, Macaroni or Penne, cooked
Valmistamine
Butter-toasted Breadcrumbs:
In large non-stick skillet over medium-high heat, melt butter. Add breadcrumbs, garlic powder and sage and toast, stirring, until golden brown. Transfer to sheet pan to cool.
Cheddar Bechamel Sauce:
Meanwhile, in large pot over medium heat, melt butter. Add flour and cook, whisking continuously, until thick paste forms. Continue to cook for 1-2 minutes. Slowly whisk in milk. Add Dijon and garlic. Cook for 1-2 minutes more. Add cheese, one cup at a time, and whisk until smooth. Remove from heat. Taste and add salt, if needed.
Add cooked pasta to cheese sauce and mix until combined. Transfer to serving dish; top with breadcrumbs.
Switch-it-up Seafood Mac and Cheese: Use only 3 cups of milk and stir in 450g cleaned bay scallops and 450 g raw shrimp just after thickening sauce. Cook, stirring frequently, until seafood is cooked through, and sauce has thinned, about 4-5 minutes. (The liquid from the scallops and shrimp will thin the sauce). Continue to add cheese and complete recipe as usual.