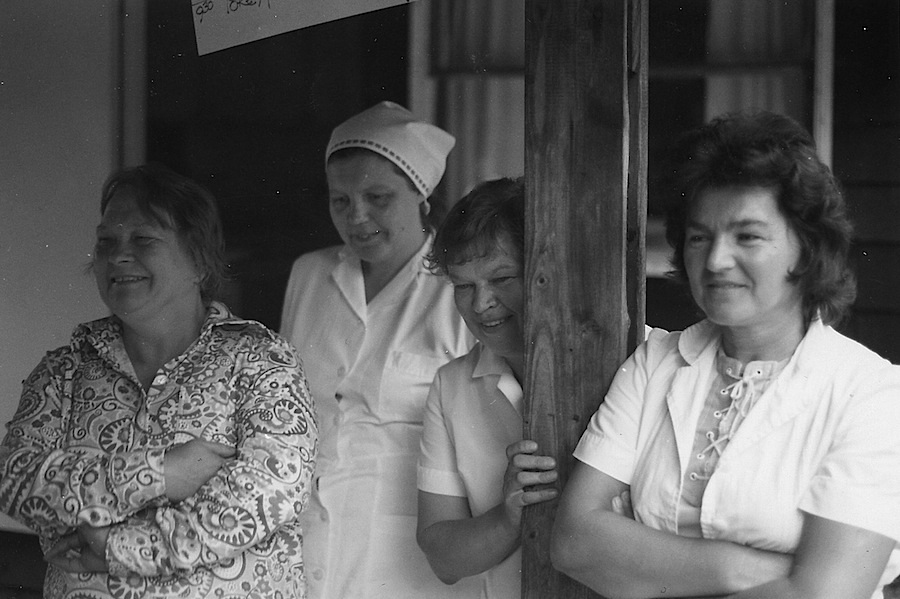 In her life, Hilja Jukkum was one of many toidutoojad (food producers) in the Toronto Estonian community, and in these demonstrations sponsored by the Toronto Eesti Naisseltsi Kultuuritoimkond, she shared some of her Easter recipes.
As Käbi Lokk, who translated these handouts to English, notes, "Only one of the handouts has a date (1965) but it appears to be a separate event, not part of the series. I believe this series took place in 1961/62 according to Vaba Eestlane, 14 aprill 1962…" This Estonian article is hosted on DIGAR.
With Easter coming up on Sunday April 9th, try out some of these recipes and see which ones you like best:
"Easter Fare"
Recipes accompanying lecture/demonstration.
Potato Salad with Almonds
10 c. boiled potato cubes
½ c. cream
½ c. French salad dressing
¾ c. mayonnaise
1 tbsp. celery seeds
4 tbsp. finely diced onion
2 tbsp. chopped parsley or green onion
½ green pepper-diced
½ red pepper-diced
(Instead of the latter two, we can substitute chopped pickles and chopped pimentos)
¼ lb. cleaned and chopped almonds.
Mix the dressing ingredients and add cooled potato cubes, add the rest of the ingredients, add salt and pepper to taste and let rest at room temperature for two hours. Refrigerate for a couple of hours before serving.
"Sunflower"
Prepare a standard hamburger mixture, roll boiled eggs in egg whites and cover with meat mixture such that eggs are entirely encased in meat mixture. Roll in breadcrumbs and fry in oil (375o F) until browned. When cooled, cut in quarters and serve with potato salad, surround potato salad with egg quarters and lettuce leaves to form a flower shape.
Salad Roll
3 c. cold mashed potatoes
2 tsp. milk
1/3 c. mayonnaise or salad cream
¾ tsp. salt
2 tsp. finely diced onion
1/3 tsp. paprika
1/3 c. chopped parsley
Filling: 6 boiled and diced eggs
½ tsp. salt, pepper
1 ½ c. mayonnaise or salad cream
¼ c. diced green pepper
¼ c. diced pimentos
Mix the first group of ingredients and place on waxed paper formed into a 12"x 8"x 1" rectangle. Mix filling ingredients and spread over base, roll as you would a jelly roll, sprinkle with parsley and place in the refrigerator. Cut into 1" thick slices. Serve as you would potato salad for külmlaud (smörgåsbord).
"Sunnyside Up" Cakes or Large Fruit Tart
Base: 4 oz. (8 tbsp.) butter
½ c. sugar
2 eggs
1 c. flour
2 tsp. baking powder.
Cream butter with sugar, add egg yolks, flour mixed with baking soda and finally whipped egg whites. Bake the base on a sheet pan or cake mold. Canned apricots to cover, whipped cream for decoration.
Cut circles from baked cake base, place apricot on one half and decorate with whipped cream.
For the fruit tart covering take canned peaches, pears and cherries to decorate. For the glaze boil liquid drained from canned fruits with corn starch or use store bought clear glaze. Cut the fruit into slices and place on cake base, cover with semi cooled glaze.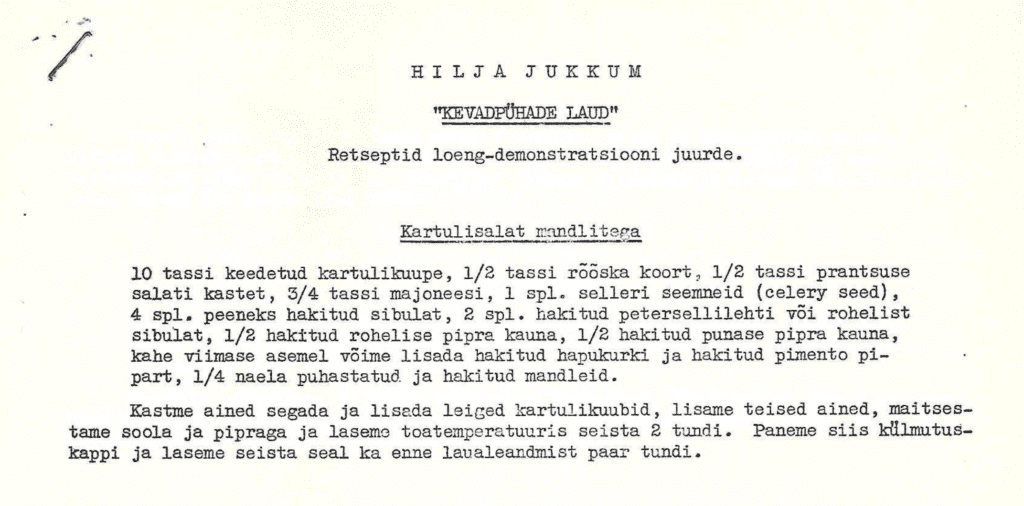 Cooked pasha
2 lb. cottage cheese
½ lb. butter
5 egg yolks
1 c. sugar
1 c. whipping cream
1 oz. sweet almonds
1 vanilla pod
and optionally currants, glacé fruit, chocolate.
Press cottage cheese through a sieve and mix in a cooking pot with the rest of the ingredients. Cut the vanilla pod lengthwise, heat the mixture to 140o F, stirring constantly. Pour into a pasha mold lined with cheesecloth or alternately into a clean flower pot. Let it drain overnight.
Uncooked pasha
2 lb. cottage cheese
6 cooked or raw egg yolks
½ oz. chocolate
1/3 lb. butter
¾ c. whipping cream or ½ c. sour cream
½ lb. sugar
For flavouring: currants, grated peel of ½-1 lemon, glacé fruit cubes.
Press cottage cheese through a sieve, also cooked egg yolks, add melted butter, cream, sugar and flavourings. Beat well and pour into a pasha mold and let it drain overnight.
Easter Braid
Dough: 3 ¾ c. flour
2 tsp. baking powder
1 c. sugar
vanilla sugar or vanilla extract,
a bit of salt
4 drops of bitter almond oil
grated peel of 1 lemon
a few grains of ground cardamom
a bit of mace
2 eggs
1 c. butter or margarine
½ c. of good dry cottage cheese
½ c. currants
½ c. glacé fruit
1/3 c. chopped almonds.
Milk for glazing.
For decoration: Icing sugar glaze, almonds and glacé fruit strips.
Mix flour with baking powder on the countertop, make a hollow in the centre and put in sugar, spices and eggs. Mix partially with flour, add cold butter or margarine cut into pieces and sieved cottage cheese. Add raisins, almonds and glacé fruit strips.
Mix the dough quickly with your hands into a smooth mass. If it's sticky, add more flour.
Take 2/3 of the dough, divide into three, form ropes and braid together, place on a greased sheet pan and with a rolling pin, create a trough lengthwise in the middle of the braid. Paint the trough with milk.
With the remaining dough make a similar smaller braid and place in the trough. Decorate with almonds. Place in 350-375o F oven for 1 to 1 ½ hours. Cool and cover with icing sugar glaze.
Easter Bread (Kulich)
4 ¼ c. flour
1 ¼ c. milk
1 package fresh yeast
1 egg
¼ lb. (4 tbsp.) butter
½ c. sugar
¼ tsp. Salt
3 egg yolks
Prepare a yeast dough, whip egg yolks with some of the sugar, add melted butter. For flavouring use cardamom or rosewater or saffron or vanilla bean or ½ c. raisins and ½ c. finely chopped almonds.
Knead the dough well and let it rise in a tall mold. Fill the mold about 1/3 full and let it rise until ¾ of the mold is full. Bake in a 400 o F oven for about 20 minutes. You can decorate the top with almonds.
Toronto Eesti Naisselts Kultuuritoimkond