Being in Japan makes you feel both as if the world is smaller and bigger. Smaller because you've travelled thousands of kilometres from Canada in a few hours; bigger because your surroundings are, at least from a western perspective, less familiar. The language, the cuisine, certain rules, technology, and enduring traditions.
In this euphoric state of learning about life in another place, you'll start to form reflections about this new place. Certain reflections that are frequently spoken about include a common sense of respect for others, public order, and intense focus in one's occupation. Talking about the nation in this way could sound like a lazy generalization, but these phenomena are noticeable to such a degree that they seem like societal standards.
However, travelling from Tokyo to Kyoto and onward to Osaka revealed some unexpected reflections. And, what's more, there are cultural phenomena that are heart-warming in their familiarity to or appreciation of Estonian and Nordic ways of life.
Take, for instance, the celebration of folk culture. In Estonia, citizens and the government invest a great deal of money, time, education, and other resources into continuing folk traditions. It could be rahvatants, music, rahvarõivad, distinct recipes, or literature. Just as Estonia has institutions and events to rally behind these national treasures, the people of Japan encourage the appreciation of folk culture among locals and tourists alike.
When visiting the Orinasu-Kan museum and weaving studio in Kyoto, I was given a comprehensive demonstration of the kimono (traditional Japanese robe) making process. And when I remarked to the tour guide how many young couples I had seen going on dates or to shrines wearing kimono, she explained how many businesses give discounts to customers wearing kimono. This is done in order to encourage their use across generations. Rental shops are widespread, and sometimes tourists take part in wearing kimono, too, in appreciation of the tradition. As much as high-octane pop culture is adored in Japan, older traditions are regularly observed.
In the many Shinto shrines I visited, I found a link to maausk, the spiritual spaces that hiied provide, and the respect for ancestors exemplified by hingedepäev. For one thing, Japanese shrines are frequently surrounded by foliage and soft landscaping. Or at least, as in the case of Asakusa Shrine in Tokyo, crowds of practitioners, a colossal pagoda, and rising incense smoke are juxtaposed with a small stream and delicate trees. The focus of these shrines is the worship of kami—spirits that can include gods, ancestors, and aspects of nature. That being said, it's a belief system with flexibility in how it's practiced, much like Estonian paganism.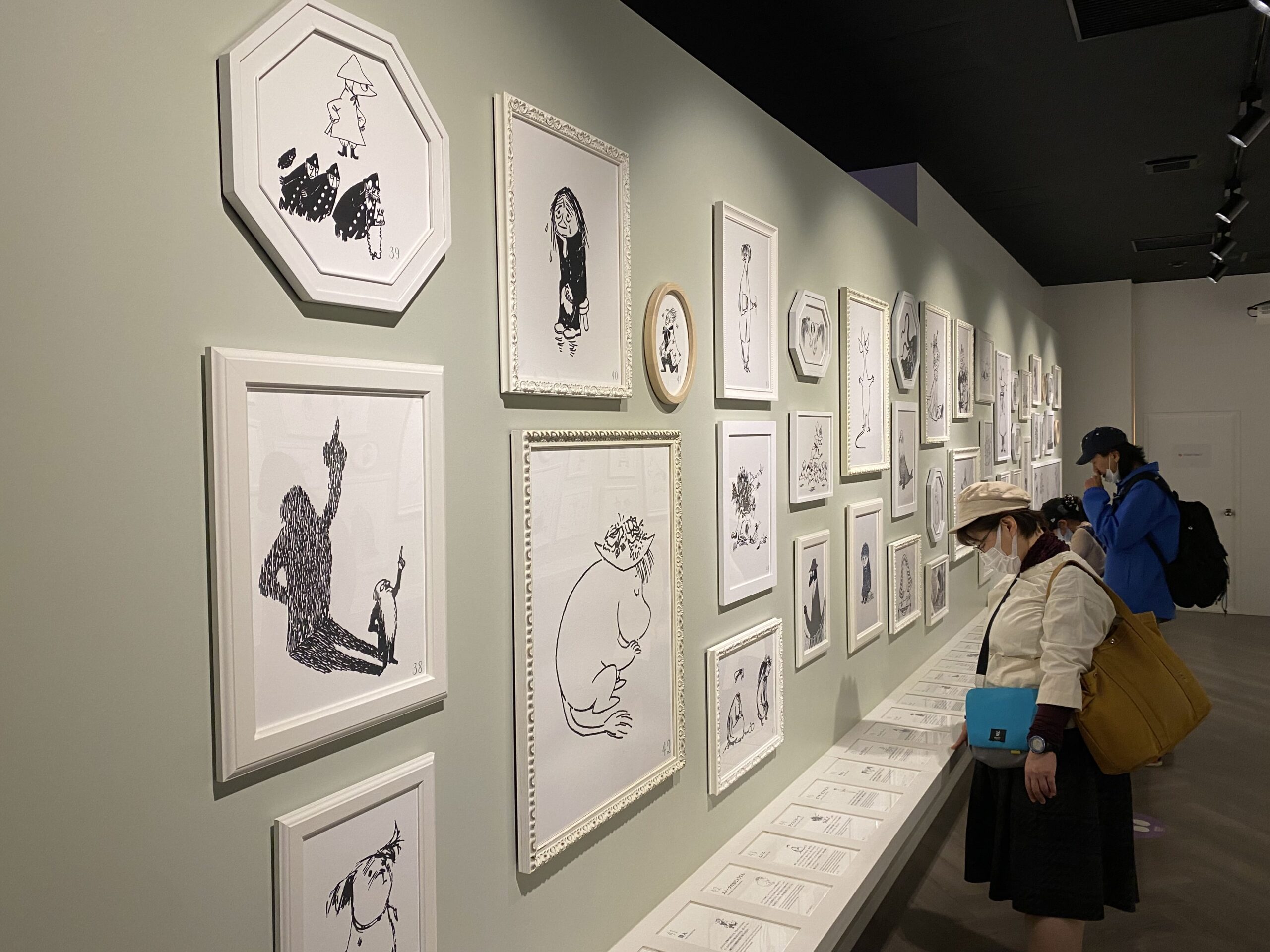 A noticeable crossover with Estonia and Nordic art and design was seen in and around Tokyo. In the fashionable Shimokitazawa neighbourhood, Espace Shimokitazawa Mona held an exhibition of illustrator Rie Kashiwagi's works. Among numerous Scandinavian and Eastern European folk motifs in her art was an Estonian folk costume, vöö belts, and mittens. An abundance of merchandise featuring these drawings were on sale in the gallery space.
Then, in Hannō, on the outskirts of the megacity of Tokyo, there was Metsä Village, and Moominvalley Park within it. Yes, Tove Jansson (creator of the Moomins) was a Swedish-Finn, but her stories are popular in Estonia, too. An exhibit in Moominvalley Park brings her comics and books to life in ecstatic, three-dimensional glory. And a visit to the tranquil park area elicited a familiar feeling to being in Estonia. One can stroll past a woodworking studio, a small lake, and partake in a delightful kohvipaus under the burnished autumn leaves.
As an aside, Japan also happens to be a place where Estonian music has a following. Tuulikki Bartosik, Mari Kalkun, Trad.Attack!, and Curly Strings have all played in Japan.
In a more subtle way, it was comforting and familiar to see strong and active elderly folks going about city life, alongside little kids, busy office workers, and beyond. From the gentleman who sells astoundingly sharp chef knives in Ginza to the grandmother getting fresh takoyaki (fried octopus balls) with her grandchildren by the Dōtonbori canal in Osaka. The honour and dignity that is inherent to old age in Japan reminded me of the elders of my own upbringing.
Still, these reflections can only begin to detail what you will experience in a trip to Japan. Your best preparation for it is to be prepared to be surprised. In Japan, I was expecting to be discombobulated by chaotic urban movement and different rules; halted by the language barrier. But in every way, I felt welcomed, taken care of, and close to home in a way I couldn't have anticipated.
As an Estonian, and moreover, as a human being, I would encourage anyone to travel to Japan if they have the opportunity to do so. It's an eye-opening adventure that will enrich your life indefinitely.