This past Sunday, December 8th, the choir, conducted by Avo Kittask, put on a great concert showcasing their talent and ringing in the most wonderful time of the year. Accompanying and adding flavour to several songs were choir member Toomas Heinar on bass and Elli Kipper on the keyboard.
The choir welcomed the audience with a strong and powerful choir motto, followed by "Mu Eestimaa," lyrics by Peeter Grünfeldt and music by Konstantin Türnpu. The beginning of the afternoon featured a collection of songs expressing love, admiration, and longing for the homeland. They provided a fitting and respectable start for the concert. To spice up the repertoire and provide a pleasant surprise for the audience, two operatic pieces were performed; one of them being "Tasa, tasa" from Giuseppe Verdi's opera Rigoletto and the other "Palverändajate koor" from Wagner's Tannhäuser. Both were performed well and clearly showcased then singers' vocal talents and skills.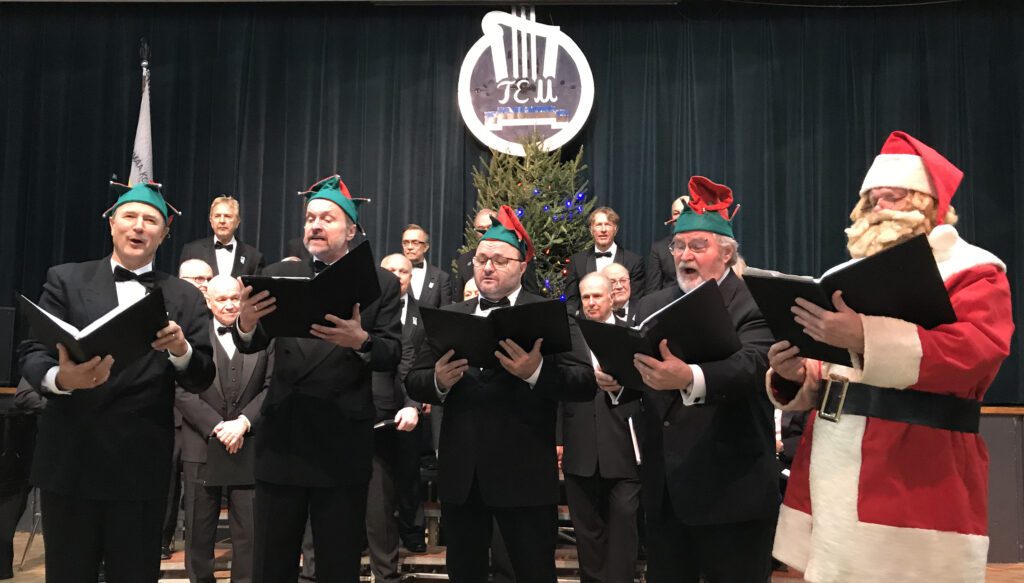 Many listeners were heard mentioning post-concert that their favourite piece during the whole afternoon was "Tasa, tasa" and that they were very impressed with how well it turned out. Also featured in the first half was a song from the 2014 Song Festival repertoire called "Oma saar," music and lyrics written by Kait Tamra. With this, the first half of the programme drew to a close in which the complexity of the choir was very apparent and the multi-faceted repertoire of the choir was well represented.
To bring in the second half of the concert Santa Claus Enno Õunapuu payed a visit, bringing with him gift and even joining the TEM'i velled (Juhani Eistrat, Derek Ewen, Avo Kittask, and Madis Kreem) for the singing of "Saabumas on jõulud," lyrics Aapo Ilves and music Merideth Wilson. As a sombre moment, conductor Avo read out Marie Under's text for the next song and had the late choir conductor Charles Kipper's daughter Elli light a candle in remembrance of him. "Aasta kauneimal õhtul" was then sung by the choir to honour Charles.
From there, the joyous holiday spirit was rung in again with pieces such as "Üks roosike on tõusnud," one of the oldest Christmas songs to exist, and the classic "Tiliseb, tiliseb aisakell" which brought the concert to a close and left the audience with a warm heart and soul to carry home and welcome Christmastime with. The performance was followed by two pieces, "Püha öö" and "Oh sa rõõmustav" sung in unison with the audience. The Toronto Estonian Men's Choir was yet again a pleasure to listen to and I think it can safely be said that this wonderful winter season can now truly begin.