But with artists of the "New Nordic Sound"—as Estonian Music Week has dubbed several artists they've booked for this year's fifth anniversary festival—several genres may be inhabited at once. Artists "blur those boundaries." A formidable example of this within the Estonian diaspora is composer and musician Kara-Lis Coverdale.
In May, Coverdale will perform not just once, but three times. Each show will be different, reflecting another plane of her musical identity.
Coverdale speaks candidly about these distinct dimensions. In one sense, she is strongly rooted in classical music through her musical upbringing, which she calls "rigorous and conservative." She studied harmony, took piano exams, and learned the breadth of music history. She went to The Royal Conservatory. She was a musical director and organist for an Estonian church congregation. The power of tradition is strong within all of this.
On the other hand, she has also had the freedom to investigate sound in an empirical way over the years. Growing up in a rural setting, she had the space and freedom to try different technology and instruments. Of that idyllic setting, she says
"I can't underestimate the importance of that sonic interest that I began to explore around… when we got dial up internet… When I started listening to a lot of musics that were more based on the recorded medium, I found his entire world of expression opened up that wasn't really emphasized, particularly temporal expression…"
Entering the electronic realm, Coverdale discovered a "world of parameters that [was] more concerned with physics and that [was] much more scientific" than traditional music.
It may seem like there's a rift, then, between traditional and electronic music. But there are points where the two intersect. Coverdale compares playing the pipe organ to electronic forms of music due to the "many sounds and ways of layering voices and textures…" She likens playing with the left and right hands and one's feet, moving from side to side, to "riding a motorcycle." She states, "I think the only rival for that in a kind of euphoric sense and that it's very technologically surreal… would be electronic music."
As described in an interview with The Guardian, she says that as an organist, "Sometimes I would make arrangements of existing hymns, but more often I would pick up on external melodies and compose something new. I've even worked rap riffs in there, like Drake or 2 Chainz." Hip hop and organ music have different origins, but Coverdale has found something moving in each.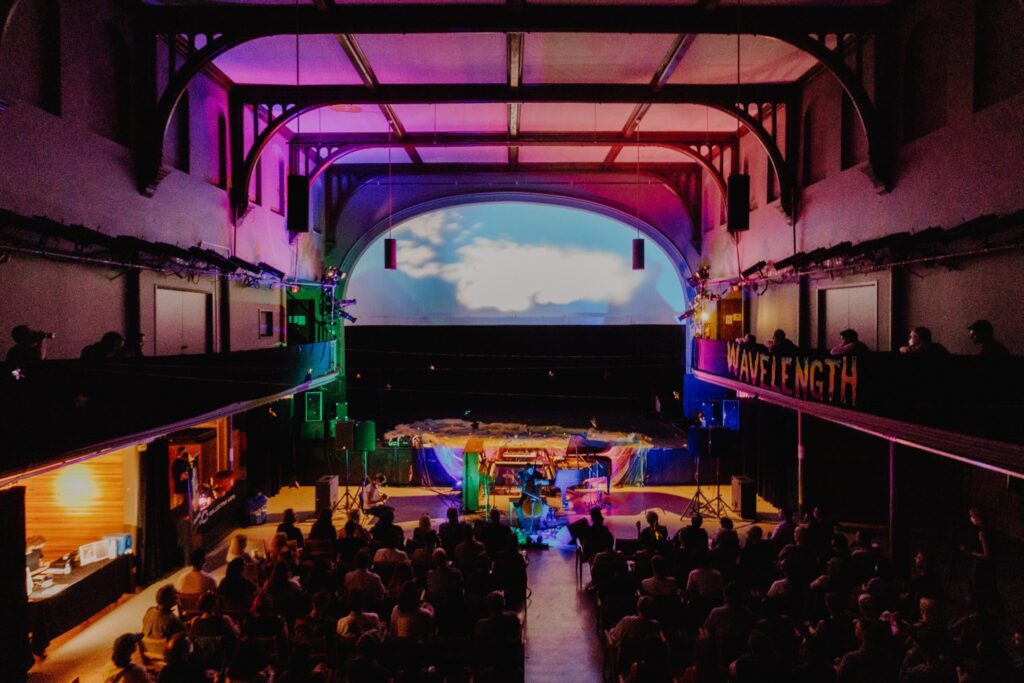 There were a few events that led to her deciding that she was going to push ahead first and foremost in a modern way. The first of these was saving up for and buying a Sony Mega Bass boombox as a kid, which allowed her to "dub things from the radio… dub from CDs and create [my] own tapes." She became obsessed with the idea of creating copies and the musical act of listening to differences in recorded sound.
Working with a room full of technology during an electroacoustics course in university was also influential. She could create new sounds, arrangements, and language. Time was spent delving into the manuals of these instruments, which was like "working with the creator itself of the instrument rather than interpreters."
Kara-Lis Coverdale has made a name for herself across continents with her musical open-mindedness, curiosity, and fluency; and while one dimension of her music may appeal to you more than the others, it will be enriching to see each approach presented live.
On Thursday May 25th, Coverdale will join L CON, Liis Ring + Mari Kalkun, Ansambel Triskele, and Nastasia Y at St. Anne's Parish Hall in Toronto. During this evening, she will showcase her original electronic compositions in a standing concert. On Friday May 26th, also at St. Anne's Parish Hall, she will play a DJ set amid the interactive art, sauna on wheels, and sound and light installations of the EMW kunstipidu (art party).
On Saturday May 27th, for a seated audience at Collective Arts Brewing in Hamilton, she will come back to her roots in a few ways. Exchanging electronic tones for the piano, she will perform alongside Ansambel Triskele and the Hamilton Philharmonic Orchestra, which she grew up seeing perform. This latter concert is the Canadian premiere of a piece composed just for this festival, commissioned by Alan Teder in memory of Velda and Ingvar Kattemaa.
About the commission, she notes "We'll move out of some recent work for cello and strings and [work] towards a more diverse orchestral palette." Coverdale describes how she has been exploring the theme of tuning. She has worked with original translations of scientist and philosopher Johannes Kepler's writings on harmonics from the 1600s, "which are some of the first ways of thinking about relationships between planets and musical harmonics. There's a lot of overlap there."
Coverdale is delighted to be at the festival, saying:

"I'm excited to share music. I'm excited to hear music. We're so lucky to have these cultural bodies that really value art and the Estonian community has been such a huge supporter of my work… I'm really grateful for that."
The festival is thrilled, in turn, to facilitate each of these three totally different performances. Head to www.emw2023.ca to secure your tickets to see this in-demand performer before the tickets are sold out!
Also take a listen to the full interview with Kara-Lis Coverdale in the latest EstoCast episode, available on Spotify and other major streaming platforms.