For young kids today, video games, tablets, computers, and TVs are more accessible than they have been for any generation before. For all the fun and learning they provide as tools, playing with something physical, moving around, and using your own imagination are all tried and true parts of the kid experience.
However, this kind of play is challenging at times of the year when the sun sets early, or if it's too cold or rainy. It's even more disappointing for kids if nice weather has slipped by during a school day. Unless there's something exciting waiting for them after their homework is over! Remember how many hours you once spent creating characters, their worlds, and putting on theatrical performances? Or fitting together a huge puzzle as the rain pattered on the window?

Maybe you've felt nostalgic about your own games and toys growing up and want to share that euphoria with your own children, grandchildren, or nieces and nephews. Here are some companies from Estonia that have made toys and puzzles for kids with an emphasis on high quality manufacturing and design.
Pehme mänguasjad made by MiaPuPe (soft fabric toys — available from https://miapupe.com/pages/lapse-joonistuse-jargi-valmistatud-manguasi )
MiaPuPe is a family business, started in 2012 by Mariel Tammik, who is from Hiiumaa. Tammik has a professional background in clothing design and production, which has taken shape in a large collection of mystical beasts, fabric creatures for babies, rattle toys, and bags with detailed images sewn on. She has brought her creations on the road and appeared at outdoor markets in and around Tallinn and has been selling online since 2015. Each item has an unabashed playfulness that stands out from other similar toys.
Even more spectacular are the commission-based stuffed animals she makes. The concept is that she uses the drawings of characters sent to her by customers, usually done by their children, and makes as close of a representation of that drawing as possible. This is done, no matter how fantastical the drawings are. Past projects include the mascot of a children's museum and the replacement of a child's favourite beagle stuffed animal that had been lost. Textiles and sewing can save the day!
Puidust mänguasjad from E. Strauss ( wooden toys — available from https://www.strauss.ee/index.php?sisu=tootekataloog&mid=1&kat=36&lang=est )
The town of Avinurme, in Jõgevamaa, has been documented in writing for its woodworking tradition since the 1800s, according to the E. Strauss company. This line of work is still common in the area. The company started in 1994, and in 2010, the Avinurme Puiduait (referring to the large barn in town that the shop is located in) was opened, selling the wares of approximately 30 craftspeople. Some of these are home items, like baskets, utensils, bowls, and sauna kibud (wooden pails, also known as "piggins" in English, with a handle that extends from the main structure of the pail). In their stock, they also have handmade wooden vehicles of all kinds for children to play with. The vehicles have space for small figures that you might get in a model making kit, and extra components like wheels and propellers move freely, allowing for dynamic playing.
If you're ever in the area, you can also stop by for one of their õpitoad ("workshops") in baking, woodworking, wood painting, or basket weaving.
Lotte ja kuukivi saladus pusle (Lotte and the Moonstone Mystery jigsaw puzzle — available from https://www.lotteshop.eu/puzzles/pusle-lotte-ja-kuukivi-saladus-3×49-tk )
In 2020, puzzle purchases were sky high, more than the usual holiday season levels according to The New York Times. Legendary German firm Ravensburger is in on the action, and have teamed up with one of Estonia's most famous children's brands. To this day, each puzzle cut design is mapped out by hand.
The character of Lotte, her sister Roosi, and her friends Albert and Bruno in Leiutajateküla ("Gadgetville") aren't just in books, animations, or Lottemaa ("Lotte Land") theme park — they are scrambled and waiting to be put together in puzzle form. The three 49 piece puzzles included are based on the second feature-length Lotte animated film.
See how these match up with your child's current toys, to find the best fit for their interests. Perhaps these will become toys that they in turn will look back on with fond memories!
Written by Vincent Teetsov, Toronto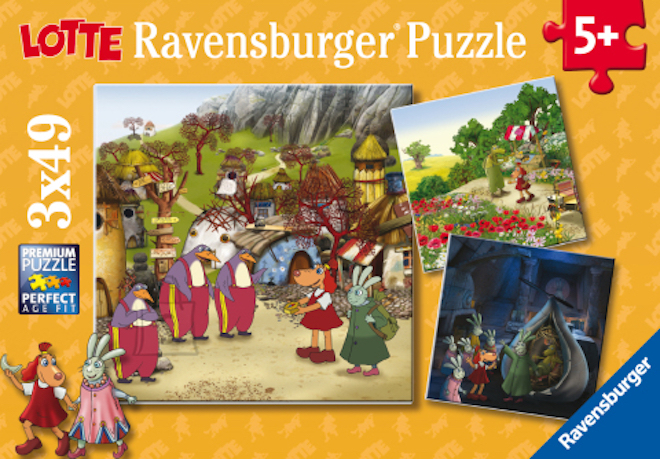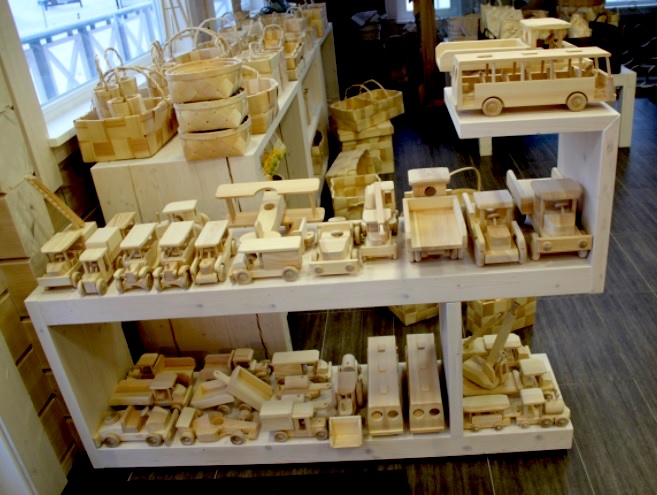 ---