We all need to laugh more so that we're not consumed by stress and anxiety… so that there are some moments of reprieve when we can just breathe, relax, let go, and enjoy ourselves without reverting to destructive habits.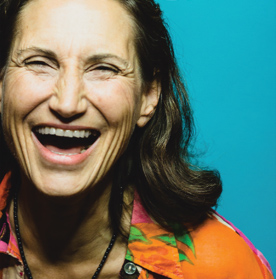 That's why we're inviting you to join us for this over-the-top fun, interactive laughter session led by Toronto's laughing champion, Lynn Himmelman.
Be prepared to experience laughter at a whole new level! Even though this is called laughter yoga, there are no yoga postures. Laughing IS the yoga and it's for all ages! Together we'll stretch our minds and bodies into a bigger and bolder expression of laughing than our everyday lives allow.
This is your chance to participate in an infectious, mood-enhancing, euphoric happening that'll totally make your day. When was the last time you laughed so much you couldn't stop? Exactly.
So, gather your friends together and join us. You'll be so glad you did!
Lynn Himmelman's laughing yoga class, part of the VEMU Year of Movement program, will take place on Wednesday, April 5 in Tartu College's main hall. Gathering at 7:00 pm, start at 7:15 pm. In English. Pay what you can. Register by March 31: info@vemu.ca. Info: vemu.ca