Writers will prepare by plotting out narrative and scripting scenes. Actors will be casted. Locations are scouted. But still, a cohesive visual style is needed to bring these components to screens or the stage.
The reason for this is that verbal or written descriptions of locations, characters, and objects may be interpreted in divergent ways by team members. And for any of the aforementioned artistic works, there are many team members. It's essential that each person knows clearly what the desired "look" is, otherwise time and resources will be wasted during production.
My first exposure to concept art was in Mark Cotta Vaz and Shinji Hata's book From Star Wars to Indiana Jones: The Best of the Lucasfilm Archives. Poring through its pages, you'll find photos of finalized costumes, film stills, and simple storyboard cells. But then there are the concept illustrations of artist Ralph McQuarrie. Some of these are black and white technical sketches, suggesting how character costumes and equipment come together. Others are fully painted landscapes and cityscapes.
The lore behind these illustrations is that in the pre-production stage of the first Star Wars film, director George Lucas approached McQuarrie to commission his drawings with a script and an idea that intersected somewhere between Akira Kurosawa's Seven Samurai and Flash Gordon. It was wild. It was unheard of. Nevertheless, McQuarrie took on the task, enabling the film's art department to work their magic. Drawings in hand, Lucas has said, "it was very easy then… I'd say 'this is what I want the Death Star to look like. This is what I want the desert to look like.'" To this day, film buffs pick up on the similarities of samurai helmets with that of Darth Vader; or how C-3PO looks quite similar to MARIA in Fritz Lang's 1927 film Metropolis. All of this from an idea, and then a drawing.
The joy of collaborating with a concept artist is their open-mindedness. They will dream together with you and consolidate your pool of ideas. They complete the first step of the fabrication process, too—planning. Anyone involved in making props, costumes, and sets must break out a pencil and paper (or digital equivalents) before they break out needles, saws, and welding torches.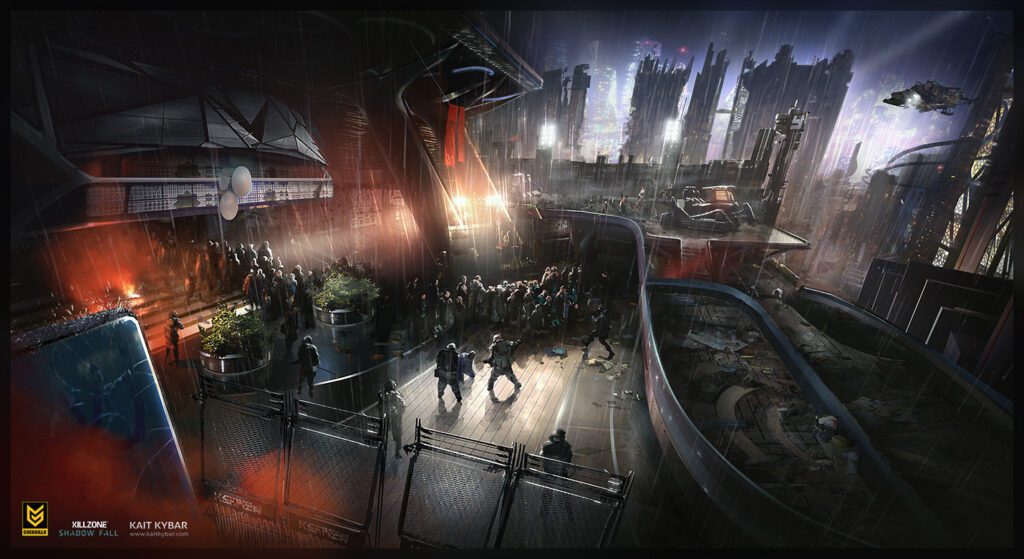 Who are the practitioners of concept art today then? In search of the newest generation of artists creating these illustrative foundations, I found the work of Kait Kübar, an Estonian artist. To date, Kübar has worked as a concept artist for Dutch game developer Guerilla Games and Swedish developer Starbreeze Studios. It was at Guerilla Games where he worked on Killzone: Shadow Fall, the last title of the very successful Killzone game franchise. The digital illustrations he made for this game are exquisite. In quite a few, rain pummels a city called New Helghan, occupied by refugees from the devastated planet of Helghan. It's a haunting, shadowy, unforgiving place, where the refugees are isolated from the new planet's original inhabitants by a wall. Light is cast through the darkness sparingly, from open flames, holograms, floodlights, and imposing towers.
If you're seeking hope in the works of Kübar, take a look at the digital painting "Time Out." It offers us a majestic river bend, outcrops with dusty orange and brown vegetation, and a waterfall in the distance. Two figures pause by the riverside with tall poles in hand. Behind them is a sleek spaceship, hovering in mid-air.

Elsewhere, in the comically titled "Adventures of Selfie Stick Salesman," the main character is approaching a monumental gathering place with wide arches on its sides. It could be a place of government, a holy site, or a military installation. Regardless, this salesman is going to sell a selfie stick, and probably snap a photo while he's at such an Instagram-worthy site.
Jokes aside, the composition has a hint of relief, as though a long trek has been completed just before. There's plenty of breathing room. This immense space is something that the newest concept art has achieved like no other art before it. While Giorgio de Chirico, Edward Hopper, and 20th century surrealists painted bold, wide scenes at times, they were constrained, in a sense, by canvas.
Kübar's own hero is Craig Mullins, an early digital painting heavyweight whose output has included films like Jurassic Park and games like Age of Empires. By now, the application of concept art has changed. While films took centre stage before, video games are where it's at now, and games themselves have moved away from two dimensions and dimetric projections (as you'd find in Age of Empires) to immersive environments. The latest game titles benefit from artists like Kübar working on a larger scale.
It all points to an ever-increasing appreciation of video games as a narrative art form. And rightly so. Games pick up where films and animations left off by inviting participants into the story and visuals, adding to what art can offer.
As of late, Kübar has been working with Norwegian game developer Funcom on the MMO (massively multiplayer online game) Dune: Awakening, based on Frank Herbert's famous sci-fi novel Dune and its film adaptation. Keep your eyes open for its release on Steam, for Playstation 5, and for Xbox Series S.
And the next time you play a game, track down its concept art and see how it bridged the gap between visionaries and the final product.