This is made more enticing by the prospect of earning some money, or the ability to make a positive change in our troubled world.
A year into university, I contemplated a few options for once I graduated: joining Maersk Line as a Deck Cadet, starting a rock band in Berlin, teaching English in China, or joining the Peace Corps operated by the United States government. I had a few applications lined up and ready to send, and had considered Paraguay as the place I would go, should I be accepted into the latter.
Looking back now, I can see that another direction in life was meant to be instead of those ideas; and I would even question whether my heart was in the right place at that time. However, I am still curious, what rewards do people find in volunteering overseas, in "working side by side with local leaders to tackle the most pressing challenges of our generation," as the Peace Corps describes its purpose?
One answer to this question comes from American author Douglas Wells' 2001 biographical book, In Search of the Elusive Peace Corps Moment ~ Destination: Estonia.
In the year 1991, Wells, who grew up in Omaha, Nebraska, came to a newly independent Estonia as part of an assignment with the Peace Corps. He felt a similar youthful desire to depart from routine, and so, he went somewhere unfamiliar; somewhere further away from and smaller than his hometown. Even Omaha's population as of 1990 was over 37 times larger than the current total population of the entire island of Hiiumaa. But Wells got more than he bargained for. Among many anecdotes, we learn about his overall assignment to work at a local tourist info centre, assisting in restoring Hiiumaa's economy after decades of isolation from the rest of the world, and the rest of Estonia for that matter.
His day-to-day stories follow his learning about Estonians and Estonia with hilarious outsider detail. One of my favourite points in this book was Wells' description of a training session he and his fellow volunteers had with two University of Tartu psychologists named Heikki and Heino. In front of a video camera lens, Wells tried his best to demonstrate how to interact properly with Estonians. His first attempt (using his instinctual North American method) finds him barging into someone's office, sitting down in a chair without explicit permission and chattering away enthusiastically. He also smiles too much. Alas, I've found that I've still not achieved the perfect Estonian method, either out of stubbornness or a hopelessly involuntary outward happiness.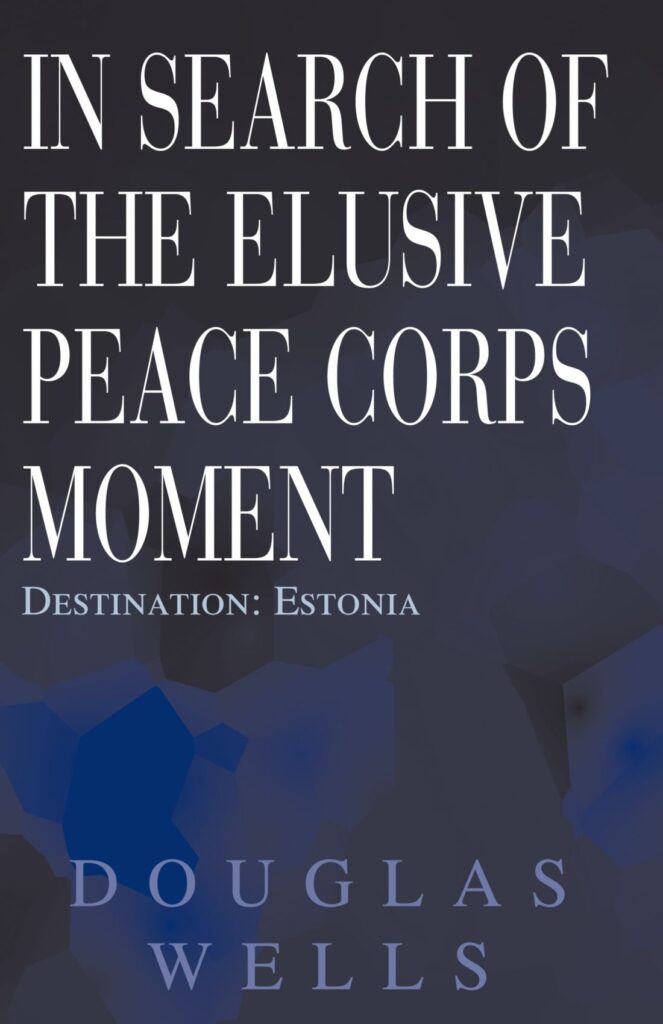 I also identified with the author's background as a musician; and thus, found it funny and satisfying when one of his songs—"Kas sa räägid inglise keelt?" ("Do You Speak English?")—became a hit in Estonia, and was on the charts for several weeks in the summer of 1994. The airplay of the song was a surprise to him, first heard in line at a grocery store one day. Interestingly, today you can find scans of Wells' original songwriting documents, for this song and others of his like "Hiiumaa Blues", on the online archival portal e-varamu.ee.
One chapter of Wells' saga in Hiiumaa that has received the most attention, and was even picked up as the idea for a film, was the story of finding the missing church bell of the village of Emmaste.
In 1943, when the Germans were occupying Estonia, there was the threat of the bell being stolen, its metal melted down for bullets. Six young men carefully dislodged the bell and buried it underground. 51 years later, failed attempts to retrieve the bell led many to believe it was lost or had been found and sold. But a man named Jetter Tull approached Wells, who had a metal detector. Together, after an exhausting search, they finally found the bell, which was a cause for celebration. It was a huge national news item and Wells was thanked by then Estonian President Lennart Meri for the discovery.
The circumstances that floated his way are spectacular, almost unbelievable. And in this book, you really root for Wells as his time there turns into an eventful and profound handful of years. Wells' writing is a pleasure to read, for his affable voice and his humble and aware state of being. It's an intriguing standpoint to ponder the history of post-independence Estonia from.
Wells went onto a career in the US Department of State after the events of the book. But even though he left Hiiumaa many years ago, we're shown how Hiiumaa has stayed with him. As he's said subsequently, "It was arguably the best time of my life, so wonderful it's hard to believe."
I would say those who would enjoy reading In Search of the Elusive Peace Corps Moment most of all are those who have been to Estonia a few times and would like to read about the transition period that led to the e-Estonia we know today. Those who are about to travel to Estonia for the first time and want to read an in-depth, personal account of life in Estonia would get a lot out of it, too.
Given the conceptual focus of the book, of seeing Estonia through his lens and his activities—and considering the tough criticisms levied at the Peace Corps as an organization—the book makes me curious to read more of what local Hiidlased have to say about their island at that time.
What is the elusive peace corps moment? Arguably, it is when one obtains a deeper understanding of or empathy for people outside of one's own home. Douglas Wells has reflected this in the pages of his book, informing English speakers about Estonia in a heart-warming, entertaining way.
This book can be found in print and digital formats through Chapters Indigo. You can also read in Estonian about his adventures in his book Jänki seiklused Hiiumaal (Adventures of a Yankee in Hiiumaa).
This article was written by Vincent Teetsov as part of the Local Journalism Initiative.