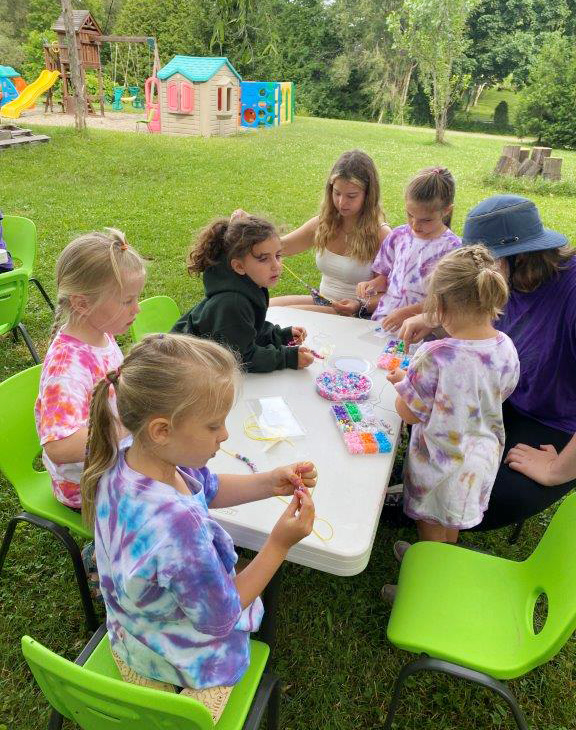 So many memories come flooding back when we think of this place. Whether you were a camper, a counselor, kitchen staff, enjoyed a Suvihari, sang at laulupidu – there are lasting memories and friendships formed, love declared … Seedrioru means so much to so many! In my family alone, my aunt, sister, nephew and myself, all met our future spouses there and my sister's wedding took place there too, back to where it all began. Lasting friendships that are over 60 years old with people that I now consider part of my family. And I KNOW that there are hundreds of you out there, if not thousands, who feel the same way.
Now, imagine …. no Seedrioru, …. no suvihari, ….. no little red house, …. no camp, …. No jaanituli…no laulupidu…no tubing down the Grand … no place to hold special events like weddings, confirmations, birthdays, holiday celebrations, sorority and fraternity events, guiding and scouting events. Seedrioru would not be here if not for the overwhelming generosity of our members and community at large and why we need you to GIVE NOW!! Don't wait until the last minute to give or leave it up to someone else. We only have 7 weeks to go!
OUR CAMPAIGN GRAND TOTAL: $60,125.00!!!
That is just 40, one-thousand dollar donors or teams of donors more – we can get there!!!
Reminder: Draw to be held on June 24, 2023 at Suvihari
Grand Prize: Two (2) prizes of 1 week of camp for a child of camp age
1st prize: Seedrioru hall rental
2nd prize: Two (2) prizes of a sauna night for 15 people at our beautiful Seedrioru Saun
3rd prize: A weekend stay at the Koldetare (2 nights!)
THIS MONTH'S DONATION CHALLENGE:
• All campers who went to camp 2000–2023; parents, grandparents, aunts, uncles, if your kids went or are going now… anyone who worked at camp – counselors, kitchen staff, camp directors and Volunteer Board Members
• Anyone who has rented Seedrioru for a special holiday or birthday
• Anyone who has enjoyed a Suvihari or event on the beautiful grounds
We have 7 weeks left of this campaign to make the Seedrioru of the future SOLID. Please join us!!!
To paraphrase John Lennon;
You may say I'm a dreamer
But I'm not the only one
I hope today you'll join us
And Seedrioru will continue to be as one….
Elagu Seedrioru!
How to donate:
If no tax receipt is required, please send by E-transfer to Treasurer@seedrioru.com
OR by cheque to: Estonian Summer Camp Society
c/o Rein Pertens (Treasurer)
145 Little John Rd.
Dundas, ON L9H 4H2
and enter 'Red House' at the bottom left corner
Upcoming dates:
Talgu weekends: Sat May 13, June 10, June17 – lunch included
JUNE 10: PRE-CAMP with Talgud: Supervised camp activities for children 4–12 so parents can work! Free Lunch and dinner for all.
JUNE 23–25 Suvihari. Advance tickets available on line.
JULY 9 first day of camp. Preregistration discounts available until May 15. For further details go to our website here.
Contact: kamustie@gmail.com