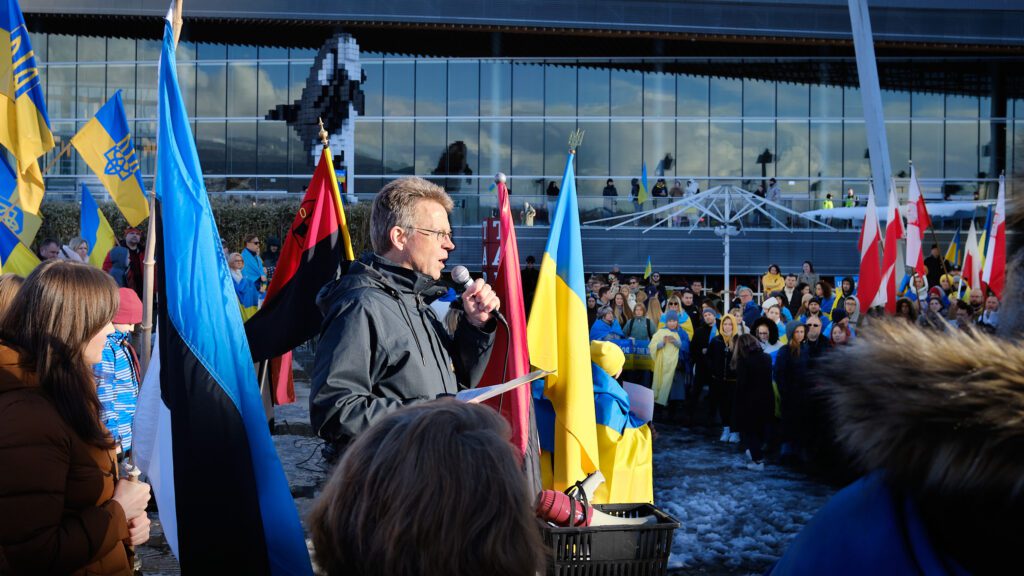 Let me start by stating that Vancouver Estonians and Estonians around the world unequivocally support Ukraine in its fight against the totally illegal, immoral and evil invasion by Putin and the Russian Army. There is no grey area here – Russia is the aggressor that has broken all International Laws by brutally invading Ukraine and they must be stopped and punished.
Feb. 24 has traditionally been a day of joy and celebration for Estonians as it is our independence day from Russian rule, 105 years ago – but now it is also a day of profound anger and sadness as it marks the date of the Russian full-scale invasion of Ukraine. Estonians have experienced Russian brutality first hand and know of the horrors that Ukraine is suffering today. We know that Ukraine is not only fighting for its very survival, but also for a rule based world order that respects freedom, democracy, sovereignty, and territorial integrity – everything that the terrorist state Russia does not respect. Every nation that believes in these principles has a moral obligation to support Ukraine. Ukraine must win and Russia must lose.
Estonia is a small Baltic nation with a population of 1.3 million and is supporting Ukraine by all means possible and serves as an example of how any nation no matter how small, and any single one of us can make a difference. Estonia has now welcomed over 62,000 Ukrainian displaced people – per capita more than any other country, and Ukrainians now make up over 5% of the population. It has given Ukraine over 370 million Euros of military support – over 1% of its GDP which ranks as highest in the world, 23 million euros in Humanitarian support, and 6 million Euros to start the reconstruction of the Zhõtomyr region. Canadian Estonians have also donated over $500,000 to Ukraine.
Unfortunately, as great as the support has been from Estonia and all the Western nations, the war still rages on and frankly much more must be done NOW, in order to stop the war before the next Russian offensive, and ensure that Ukraine is victorious.
Besides the ongoing massive loss of human life on the battlefield and atrocities committed, here are some other awful statistics:
• over 1,600,000 Ukrainians forcibly deported to Russia
• over 260,000 children have been taken to Russia
• over 10,000 innocent people have been killed
Barbaric. Inhumane.
And yet some feel that Ukraine should accept a 'political solution' – a negotiated compromise with Russia, perhaps give some land away. I think I know what you think about that. Ukraine shall not give up a square inch of its territory, not an inch! – why should you negotiate with a terrorist state that has never respected any agreement it has made? Think about the 1994 Budapest Memorandum signed by Russia which promised they would respect Ukraine's sovereignty and territory in exchange for Ukraine to give up its nuclear weapons. BROKEN.
I explain it sometimes like this: someone breaks into your house, puts it on fire, kills your wife, rapes your child, then sits down as says… how about if we share the two remaining rooms. Who would accept that? It has been said many times: If Ukraine stops fighting it loses its land, people, culture, its very existence. It is genocide. If Russia stops fighting, the war ends. It is that simple. But they CHOOSE WAR.
Estonia's Foreign Minister Urmas Reinsalu said 4 days ago at a speech at the UN General Assembly that Putin must face an International Tribunal and be put on trial for the crime of aggression and that Russia must be held responsible for all crimes committed in Ukraine. There are more and more countries supporting this. I quote: "I call on all countries worldwide to recognize Russia's war of aggression against Ukraine as genocide and do everything to end it. In order to win, Ukraine foremost needs military assistance." He also expressed support for President Zelensky's peace plan and said that ONLY Ukraine can determine the terms of peace.
Ukraine, against all odds, with its brave and courageous people and soldiers, is still surviving after one year – an invasion that Russia thought would last three days.
Perhaps the Russians should sing the Ukrainian national anthem themselves and get familiar with the words (translated) "The glory and freedom of Ukraine has not yet perished" and "We'll not spare either our souls or bodies to get freedom"
We must continue to support Ukraine by all means and ensure that victory comes quickly and absolutely and on Ukraine's terms. Together we will win.
Slava Ukraini!
Slava Ukraini!
Slava Ukraini!