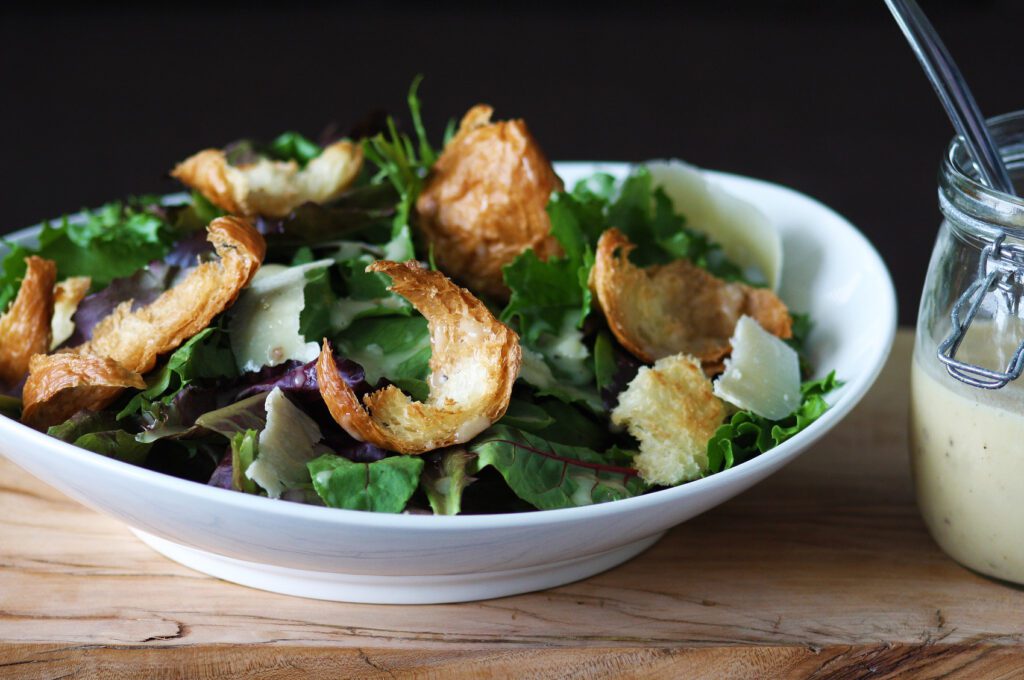 Recipe
4 stale croissants, torn into pieces
Dressing: 1/2 cup canola or vegetable oil
1/4 cup white vinegar
2 cloves garlic, minced
1 tbsp anchovy paste or minced anchovy filets
1 tbsp liquid honey
1 tbsp Dijon mustard
1/2 tsp freshly cracked black pepper
1/2 tsp salt
12 cups spring mix
Fresh Parmesan
Method of preparation
Preheat oven to 350F. Line sheet pan with parchment paper. Arrange croissant pieces into single layer and bake until crisped, about 7-10 minutes. (Keep a close eye as they will burn easily). Let cool completely.
In sealable jar, combine oil, vinegar, garlic, anchovy paste, honey, Dijon, pepper and salt. Close jar and shake well until combined.
Combine spring mix, desired amount of dressing (adding a splash at a time), and freshly grated parmesan. Top with croissant croutons and serve. Tip: Don't stir in croutons as they are very delicate and will fall apart. Store any leftover dressing for another use for up to 2 weeks.