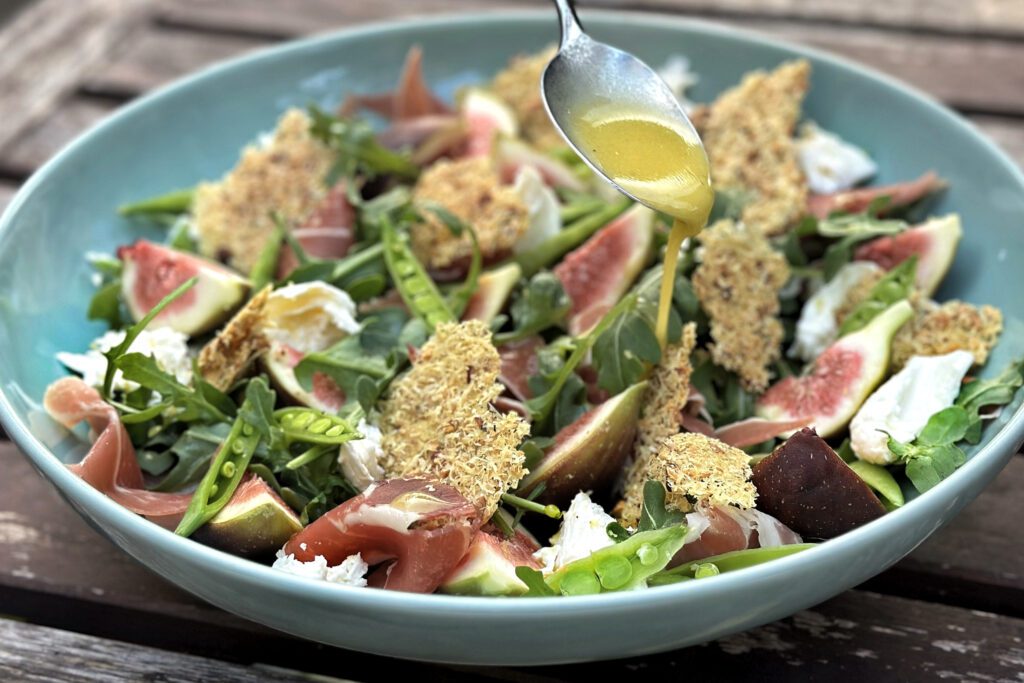 Recipe
⅓ cup light olive oil
1/4 cup freshly squeezed lemon juice, plus zest from one lemon
2 cloves garlic, minced
1 Tbsp liquid honey
1 Tbsp Dijon mustard
1/2 tsp freshly cracked black pepper
1/2 tsp salt
2 cups sugar snap peas, halved lengthwise
6 fresh figs, quartered
6 slices Prosciutto, torn
1 ball Torn Buffalo Mozzarella, torn
2 cups, finely grated parmesan
1/3 cup almonds, chopped
1 tbsp thyme leaves, chopped
Freshly cracked black pepper
8 cups Baby Arugula
Method of preparation
Preheat oven to 350F. On parchment line sheet pan, combine cheese, almonds and thyme. Mix to combine. Spread cheese mixture into 12×16 inch rectangle. Sprinkle with pepper. Bake until light golden, about 8-10 minutes. Let cool completely. Crack into pieces.
In sealable jar, combine oil, lemon juice, garlic, honey, Dijon, pepper and salt. Close jar and shake well until combined.
Onto serving platter, arrange arugula, snap peas, figs, mozzarella and prosciutto. Drizzle generously with dressing. Garnish with parmesan almond crisps.
Cheffing up a Spring Salad: Full Recipe
A restaurant-quality salad must have the perfect balance of texture, flavour, freshness and richness. Let's break down how I build an impressive plated salad. 
Balancing Texture: Softer elements should be balanced with crispy elements, so, in this salad I counter sweet figs with salty almond parmesan crisps. Also, soft torn mozzarella adds richness that contrasts the crunch of the snap peas.
Treatment of the fresh ingredients:  I love to slice the snap pea pods lengthwise to expose the beautiful peas inside, quarter the figs and hand tear the mozzarella and prosciutto.
Composed salads – Instead of tossing the salad, I arrange the elements and drizzle with the citrusy lemon dressing. I add the parmesan crisps after dressing so they don't lose their crisp texture. This is a way chefs prepare salads to excite the appetites of diners and impress their guests.