The meeting began with the presentation of the not-for-profit corporation's financial statements and a summary of the budget for the coming year. The presentation of the financial statements revealed that Tartu College (TC) recovered well in the past year, after several years of the COVID-19 pandemic. TC's revenue stream was stronger than it had ever been. As Peeter Einola from the TC Executive Committee noted, "Tartu College's revenues were notably up and, by continuing to keep expenses constrained, our excess revenues over expenses have increased our cash flow, enabling Tartu College to support Estonian community programs fully and do major renovations in the building."
TC's budget and capital expenditures for the upcoming year were reviewed by General Manager Linda Karuks. Tartu College has big projects scheduled for the 2023 year, which include a 10-suite renovation and the addition of an Accessibility Lift to connect the street level with Tartu's ground and main floors. With this summer's building renovation, Tartu College will have completely upgraded 40% of the student residence building to include A/C, and 32 suites will have a clean and modern look, designed by architect Alar Kongats. MNP LLP was approved by the Members to continue as TC's external auditor for the coming year.
With regard to 2022 expenditures, completed capital improvements in the last year included the relocation of the garbage lift so that TC visitors regained access to the rear surface parking lot which had been lost due to the construction of KESKUS.
In addition, two meeting rooms on the G floor were completely renovated, which included the purchase of new furniture for the fraternity meeting room with financial contributions from the fraternities, and a new kitchen for the sorority meeting room.
Aside from capital renovations, TC's General Manager Linda Karuks reported on the completion of the new Eesti Elu / Estonian Life digital news site, which launched in November, noting the extra expenses that were tied in with this challenging undertaking. At this point in time, TC's Secretary Reet Oolup stated that the ongoing annual deficit for Eesti Elu is "of concern to the Board and the Members."
As noted by Jaan Meri, the Chair of the TC Board, the Board is going to monitor key performance metrics to see that Eesti Elu moves towards a target of being financially balanced within the next few years.
With revenue in mind, the Academy for Lifelong Learning was finally able to attend in-person classes this year. They entered into a long-term weekday rental of TC's ground floor rooms which was to start in 2020. However, due to the COVID pandemic, they needed to postpone their start date. This is a notable new source of revenue to help pay for the ongoing G-floor expenses.
Reet Oolup added, "Over the past 10 years, there has also been an increase in summer occupancy by the English as a second language programs that run during the summer months. Most of the language students start arriving during the first week of July and Tartu is very full during July and August. This is a significant revenue stream in addition to the regular student income that we get from renting the student residence rooms."
The AMM highlighted once again that Tartu College is contributing substantially to the activity of the Estonian community; particularly through TC's agreement with VEMU Estonian Museum Canada and the Chair of Estonian Studies Foundation to support cultural events, programming, services, Eesti Elu newspaper, and G-floor activities. With such significant influence over the community's activities, it's important to have quality leadership.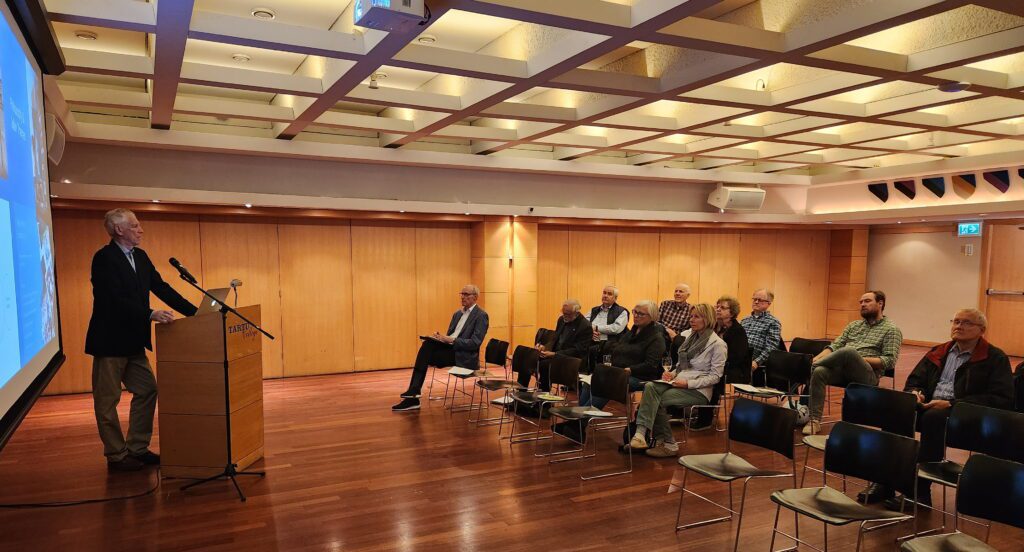 As a not-for-profit, TC is governed by a volunteer Board of Directors elected from the pool of TC's Members. TC Board Executive Committee Members give their time in abundance and deserve special recognition by our community. Notable at this year's annual meeting of Members was the retirement of three long-serving Board Directors: Anne Õsso (who was a Director for nine years), Jaan Meri (who has served for a total of 14 years as the Chair of the Board, and led the Executive Committee), and Peeter Einola (who has served as a Director and Vice-President, also part of the Executive Committee, for almost 10 years). These Board members needed to retire "because they reached the maximum term lengths allowed under the 2015 Tartu College bylaw, namely three times three years. Jaan Meri's term of service was longer as he was on the TC Board five years before the bylaw setting term limits came into effect. Tõnu Tõsine, TC Vice-President and an Executive Committee Member, voiced how all Tartu College Members and staff are extremely grateful to Anne, and especially Jaan and Peeter, for their tremendous contribution to TC's well-being throughout their term of serving.
One new Board Director was elected by the Members, Raul Sinimäe. The TC Board is smaller this year, made up of eight individuals. The Board can be made up of seven to eleven Directors elected by the Members. The total number of Members appointed by the Estonian sororities and fraternities to attend the annual meeting is 25. One Director is appointed by the VEMU Board from their Directors.
Next year, two additional Board members are set to retire after reaching their maximum term length. And in 2025, two more Board members will retire. Tartu College needs new Members from korporatsioonid and seltsid to step up to help lead this thriving NFP business which greatly supports our Estonian community. Considering all that TC does, it's a privilege to serve as a TC Board Member.
Those who are interested and able should apply for nomination through their respective korporatsioon or selts. Don't miss this opportunity to serve the Estonian community with your vision and ideas.