Even if you have a huge collection of ceramic items, there's probably one item that you gravitate towards more than the others. The reason for this may be because it has memories of good times associated with it. Because it reminds you of a certain vacation, or because it offers a snapshot of your personality. Or it could just be physically different enough that it always stands out from the others.
Examining the pottery creations of Ella Katarina Valge-Saar, one will see atypical textures, undulations, and outlines that could become one of the aforementioned favourite pottery pieces. Tea bowls, drinking sets, mugs, and tumblers: Valge-Saar crafts pieces that could sit sympathetically in a woodland setting or blend into the side of a mountain just as well as it rests on the kitchen counter.
Her educational background and the surroundings of her home make sense of this. Valge-Saar has studied biology as well as obtaining a BFA in ceramics at the Alberta College of Art and Design in 2016. As a forestry fieldworker and avid hiker (living in Canmore, Alberta), she has imbued her ceramic art with echoes of the landscapes and ecosystems she has closely observed.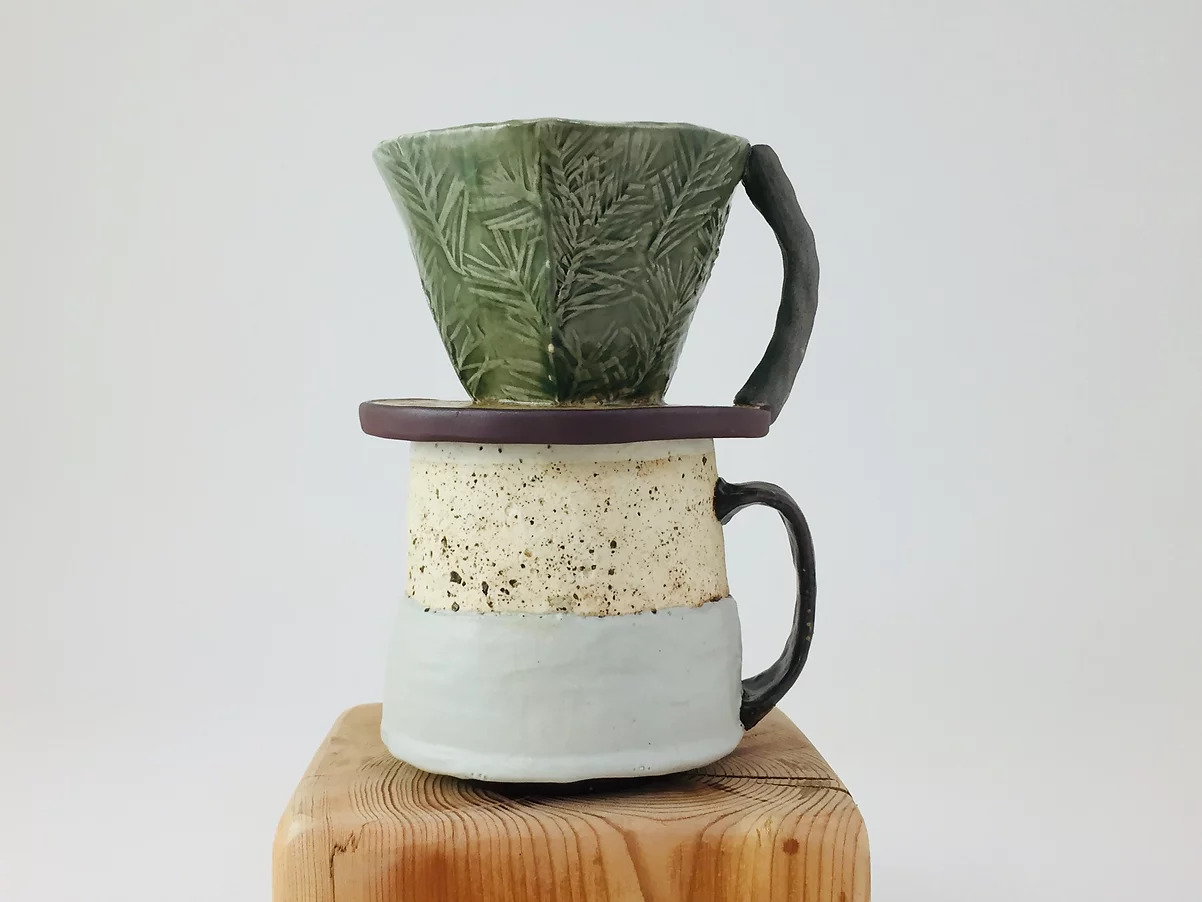 Elements of these places are physically integrated into these items, too, though. Valge-Saar states, "I strive to involve myself and others in meaningful relationships with the places we move through; to remind of the intricacies of our ecology I integrate local minerals and narratives to evoke memories, contemplations and metaphors of the environment." Look closely at these vessels, and you'll notice handles and other components in which granite, limestone, and quartz are integrated into the pottery.
One key reason why one probably reaches for custom ceramic mugs and such more than others is because the slight imperfections of a handmade piece are appealing to one's human nature. Sometimes without even realizing it. It has more heart. As such, we embrace imperfections that give an object that extra edge or personality; a state of mind that is known in Japanese aesthetic philosophy as wabi-sabi.
On the other hand, custom ceramics can offer a perfect balance of weight, such as when a mug's bottom is not too heavy or thick. A well proportioned rim and a handle that's big enough to comfortably fit your hand into makes drinking so much easier.
More recently, Valge-Saar has designed and crafted limited edition commemorative blue, black, and white mugs for Toronto Eesti Meeskoor's (Toronto Estonian Male Choir) 70th anniversary. The 375 millilitre mug has a well proportioned base. The top is glazed with a shinier glaze, elegantly contrasting with the matte pottery on the bottom of the mug. On this lower section, the choir's motto—"Alati sinule kodumaa, kõlagu vabade meeste laul!" ("Always for you my homeland, may the song of free men ring out!"")—reminds the user of the larger meaning behind the work of art.
Thus, a "perfect" factory mug may not actually suit its user as well as expected. All of these little details, both useful and beautiful, make simple moments like a morning cup of coffee more distinct.