Tired of trying to find the spirit of Tartu ("Tartu vaim")? Already done the beach at Pärnu? This article explores visiting less popular parts of Estonia or visiting other capital cities close to Tallinn.
A note on getting around
Renting cars in Estonia, and Europe on the whole, from large international car rental agencies can be quite expensive, especially if one prefers to drive automatic. Estonia offers numerous inexpensive options.
The two most popular car rental apps are: Bolt Drive and Citybee. I personally have used Citybee (when travelling in Lithuania) and my wife has used Bolt Drive, and they both worked fine.
If one prefers a more traditional car rental option (i.e. someone gives you the keys to a rented car that is clean, with a tank full of gas), then try Yes Rent. The owner, Urmas, has worked with Canadian-Estonians for many years.
Eastern Estonia
The North-East and South Eastern parts of Estonia are among the least travelled parts of Estonia. Take the road less travelled, and you'll find there is plenty to see. Why not take the three-plus hour drive to the resort town Narva-Jõesuu, a hot vacation destination for the late 19th Century nobility living in Russia's nearby capital, St. Petersburg?
Also a popular Estonian resort in the 1930s, this former resort town is quietly being restored. The beach and surrounding area have been beautifully cleaned up. Your choice of hotels includes new, modern hotels like Meresuu, offering all sorts of massages and procedures; or if you prefer to try something you cannot find in Toronto, stay at The Narva-Jõesuu Medical Spa (established in 1961), where guests can step back in time. After a week of partying with friends and relatives in Tallinn, perhaps you will benefit from their heavily advertised "Detox Centre." In the evenings, visitors often walk along the length of the city's main street. At one end of the main street is the river Narva, Estonia's eastern border. Better to not take a walk on the wild side of that river.
After relaxing at Narva-Jõesuu, drive south 15 miles to Narva. There is quite a large amount of interesting and attractive sites to visit, although the medieval Old Town was razed during the ferocious battles of the Second World War. Hermann Castle (also known as Narva Castle or Narva Fortress) is perhaps the most famous site. Its claim to fame is that there are two large fortresses very close to each other, the other fortress being Ivangorod Fortress, with the Asian style pointed roofs on turrets, on the Russian side of the river Narva.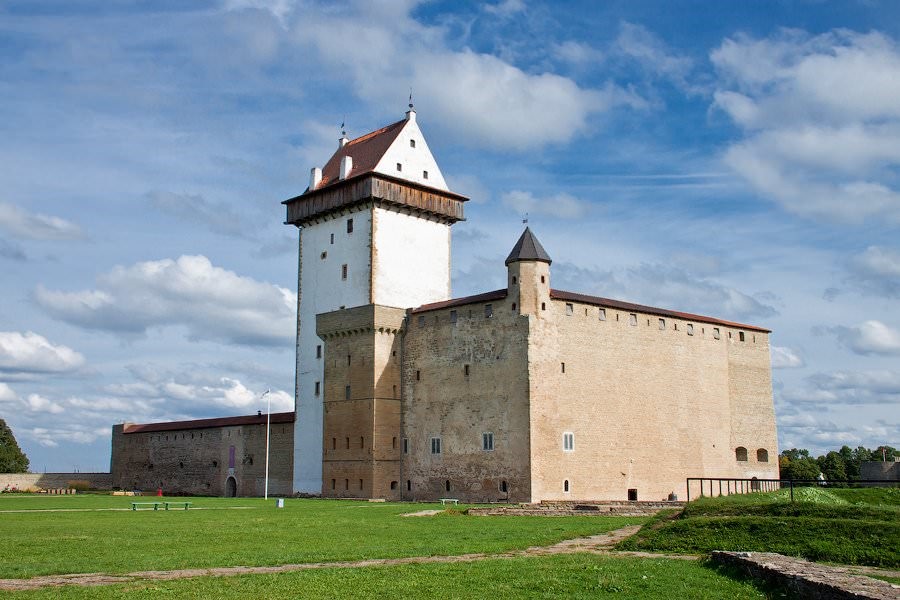 The Baroque style "Narva Raekoda", or Narva Town Hall Square, was built in the second half of the 17th century. During the Second World War it was severely damaged, later being rebuilt in the early 1960s. In a nice juxtaposition of architectural styles, it is directly beside the very modern Narva College of the University of Tartu.
If it is hot or rainy outside, one can escape the elements by walking through the Narva Bastions, underground military tunnels that were built in various stages from 1630 up to the 20th century. One can download the PDF brochure "The Bastions Route" online.
However, this author's personal favourite when it comes to sightseeing in Narva is the "Swedish Lion". In 1700, Swedish King Karl XII defeated Peter I (Peter The Great) and his tsarist army in Narva. To commemorate this victory, in 1936, the Swedish Government erected this statue of a Swedish lion, with its paw on a globe, looking threateningly towards Russia. Inscribed on the plinth in Latin is the phrase "Sweden remembers."
The statue was destroyed by Soviet Russia during the Second World War. But the Swedish Government did not forget and rebuilt the statue. In 2000, on the 300 anniversary of the battle, the Swedish Deputy Prime Minister travelled to Estonia and put the Swedish lion back on the plinth. To avoid offending Russia, the rebuilt lion no longer gazes threateningly towards Russia, facing Estonia instead. That being said, the author is still trying to figure out what a "threatening Swedish lion" looks like.
After finishing up with Narva, head south along the west coast of Lake Peipus ("Peipsi järv" in Estonian). As a general rule, the further one travels from Tallinn, the poorer the region of Estonia. But finally, 30 years after re-independence, money has begun to reach the western border of Lake Peipus. There are ports, hotels, and restaurants in the local towns of Mustvee and Kallaste. For a list of things to do or sights to see, visit the peipsi.ee site. The drive along the coast of the lake is scenic and there are many points of interest, explaining the lives of the Russian Orthodox Old Believers who settled in Estonia in the late 17th century to avoid discrimination in Russia.
If you continue driving down the west coast of Lake Peipus and would like to enjoy some manor house-style luxury in a hotel or restaurant, try the manor house hotel Alatskivi Castle. The hotel has only four rooms, so the author recommends booking ahead. One will feel like a Baltic-German lady or lord of a manor house when eating dinner in the manor house's dining room. And it comes complete with one's own local Estonian servants! Just kidding. Moreover, you'll find that there are a surprising number of antique shops in this quiet corner of Estonia.
Helsinki or Riga
If you have had enough of Estonia (or your relatives) or would like to see another country and capital city during your stay in this part of the world, you'll be happy to know that it's easy to travel to Helsinki, Finland or Riga, Latvia.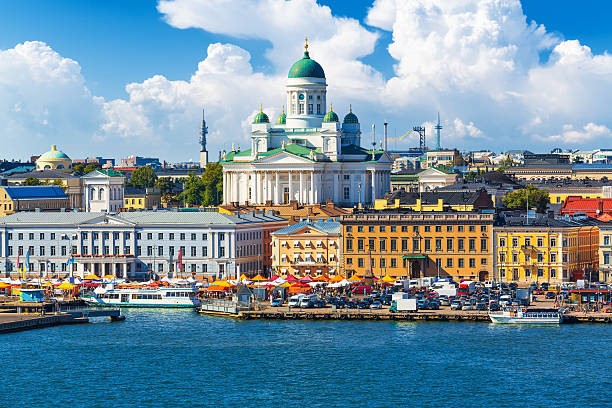 From Tallinn, there are three ferry companies that offer there and back (in one day) trips to Helsinki, a city with a very different feel compared to Tallinn. Tallink (departing Tallinn from Terminal D) is Estonian-owned. Meanwhile, Eckerö and Viking (both Finnish ferries depart Tallinn from Terminal A) are Finnish-owned. For example, book the 6:30 AM or 7:30 AM Tallink ferry to Helsinki (the trip takes between two to two and a half hours), and catch the 6:15 PM or 7:30 PM return to Tallinn.
To make life easier (starting from getting to the centre of Helsinki from the port), download the English-language Helsinki Regional Transport Authority public transportation app and buy yourself a day pass. Have a look at the Helsinki portal on the myhelsinki.fi site to figure what you would enjoy doing most.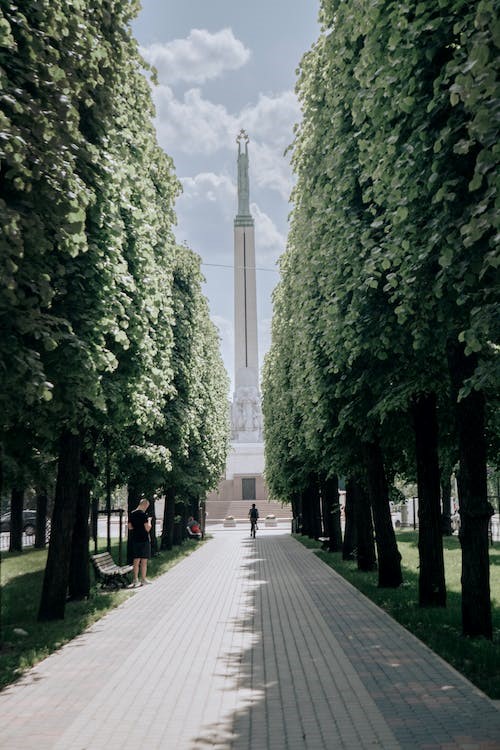 If you would like to visit another country for a couple of days, the other option you have is Riga, Latvia. It's a four and a half hour luxury bus ride from Tallinn. Alternatively, there are four direct flights a day from Tallinn to Riga with Air Baltic. Bus tickets can be purchased online at luxexpress.eu . During peak hours, buses leave almost hourly, so get an early start and catch a 7 AM or 8 AM bus from Tallinn Bus Station and enjoy lunch in Riga. The next day, return on a 5 PM or 6 PM bus and enjoy a late-night drink in Tallinn. See latvia.travel/en for ideas of what to do in Riga.
Enjoy your time in Tallinn, but remember, travel in the rest of Estonia and the wider region is now easier than ever. Make the most of it.